The FDA continues to believe the drug approval process represents the best way to ensure that safe and effective new medicines, including any drugs derived from cannabis, are available to patients in need of appropriate medical therapy. The agency is committed to supporting the development of new drugs, including cannabis and cannabis-derived drugs, through the investigational new drug and drug approval process.
The FDA recognizes the significant public interest in cannabis and cannabis-derived compounds, particularly CBD. However, there are many unanswered questions about the science, safety, and quality of products containing CBD. The agency is working on answering these questions through ongoing efforts including feedback from a recent FDA hearing and information and data gathering through a public docket.
The FDA is concerned that people may mistakenly believe that using CBD "can't hurt." The agency wants to be clear that we have seen only limited data about CBD's safety and these data point to real risks that need to be considered. As part of the drug review and approval process for the prescription drug containing CBD, it was determined that the risks are outweighed by the benefits of the approved drug for the particular population for which it was intended. Consumer use of any CBD products should always be discussed with a healthcare provider. Consumers should be aware of the potential risks associated with using CBD products. Some of these can occur without your awareness, such as:
We are aware that there may be some products on the market that add CBD to a food or label CBD as a dietary supplement. Under federal law, it is illegal to market CBD this way.
Some CBD Products are Being Marketed with Unproven Medical Claims and Could be Produced with Unsafe Manufacturing Practices
In addition, CBD can be the cause of side effects that you might notice. These side effects should improve when CBD is stopped or when the amount used is reduced. This could include changes in alertness, most commonly experienced as somnolence (sleepiness), but this could also include insomnia; gastrointestinal distress, most commonly experienced as diarrhea and/or decreased appetite but could also include abdominal pain or upset stomach; and changes in mood, most commonly experienced as irritability and agitation.
The FDA is actively working to learn more about the safety of CBD and CBD products, including the risks identified above and other topics, such as:
The FDA is working to answer questions about the science, safety, and quality of products containing cannabis and cannabis-derived compounds, particularly CBD.
Potential harm, side effects and unknowns
The FDA's top priority is to protect the public health. This priority includes making sure consumers know about products that put their health and safety at greatest risk, such as those claiming to prevent, diagnose, treat, mitigate, or cure serious diseases. For example, the agency has warned companies to stop selling CBD products they claim are intended to prevent, diagnose, treat, mitigate, or cure serious diseases such as cancer, Alzheimer's disease, psychiatric disorders and diabetes. While we have focused on these types of products, we will continue to monitor the marketplace for any product that poses a risk to public health, including those with dangerous contaminants, those marketed to vulnerable populations, and products that otherwise put the public health at risk.
In addition to safety risks and unproven claims, the quality of many CBD products may also be in question. The FDA is also concerned that a lack of appropriate processing controls and practices can put consumers at additional risks. For example, the agency has tested the chemical content of cannabinoid compounds in some of the products, and many were found to not contain the levels of CBD they claimed. We are also investigating reports of CBD potentially containing unsafe levels of contaminants (e.g., pesticides, heavy metals, THC).
CBD oil is made from the leaves, stems, buds, and flowers of the Cannabis indica or Cannabis sativa plant and should contain less than 0.3% THC. Hemp oil is made from the seeds of Cannabis sativa and contains no TCH.
However, at higher doses, too much activity at the receptor site can lead to the opposite effect. This would take away the helpful effects of CBD.
Alternative medicine practitioners believe these compounds provide more important health benefits, but there's no clear evidence to support this.
Doctors may prescribe medical marijuana to people with pain that's resistant to treatment, like those with terminal cancer. There's some evidence that CBD plays a role in this benefit.
Summary
The men who took 300 mg of CBD oil showed less anxiety than those given a placebo. Interestingly, the men who took 100 mg or 600 mg of CBD oil didn't have these results.
Some experts suggest CBD may help treat cannabis and nicotine dependence, but more research is needed.
Not necessarily. While some use these names interchangeably, hemp oil might also be used for hemp seed oil, which is used for cooking, food production, and skincare products.
Nerve Pain
There aren't many study trials that look at CBD's anxiety-relieving effects in humans. One of the few is a 2019 study published in the Brazilian Journal of Psychiatry.
The review analyzed 14 published studies. Nine of the studies looked at the effects on animals, and five studies looked at the effects on humans.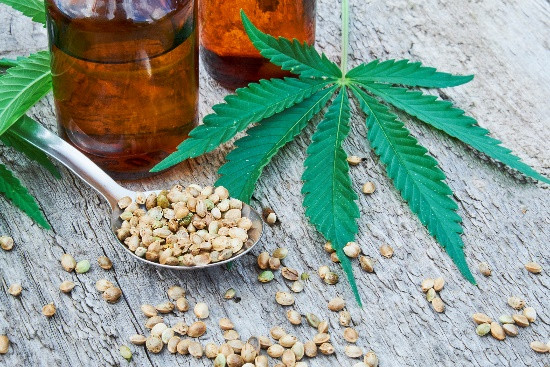 The Farm Bill removed all hemp-derived products, including CBD, from the Controlled Substances Act, which criminalizes the possession of drugs. In essence, this means that CBD is legal if it comes from hemp, but not if it comes from cannabis (marijuana) – even though it is the exact same molecule. Currently, many people obtain CBD online without a medical marijuana license, which is legal in most states.
Some CBD manufacturers have come under government scrutiny for wild, indefensible claims, such that CBD is a cure-all for cancer or COVID-19, which it is not. We need more research but CBD may prove to be a helpful, relatively non-toxic option for managing anxiety, insomnia, and chronic pain. Without sufficient high-quality evidence in human studies, we can't pinpoint effective doses, and because CBD currently is typically available as an unregulated supplement, it's hard to know exactly what you are getting.
Is cannabidiol legal?
Cannabidiol (CBD) is often covered in the media, and you may see it touted as an add-in booster to your post-workout smoothie or morning coffee. You can even buy a CBD-infused sports bra. But what exactly is CBD? And why is it so popular?
How can CBD be taken?
CBD comes in many forms, including oils, extracts, capsules, patches, vapes, and topical preparations for use on skin. If you're hoping to reduce inflammation and relieve muscle and joint pain, a topical CBD-infused oil, lotion or cream – or even a bath bomb — may be the best option. Alternatively, a CBC patch or a tincture or spray designed to be placed under the tongue allows CBD to directly enter the bloodstream.