The Reviews
In these reviews, I'll discuss the aroma, how the portion feels in the mouth, the taste, and how long the flavor lasts. At the end, Mrs. Snubie will provide input on the effect of this product and how it feels compared to her usual type of CBD, the oil and the gummies. Now, on to the reviews!
When you open the can, there is a present smell of lemon. It's not too sour, and is a little bit tangy. It reminds me a lot of Lemonheads candies. The portions are soft to the touch, and feel comfortable under the upper lip. The flavor is mostly lemon – it comes through in a tart/tangy way! The flavor, on average, lasts up to about an hour! Of the three, this one was my favorite.
Today I'm going to be reviewing something that I've had a lot of requests for: Cannadips CBD Pouches. I'm a snus user, and I don't use CBD, but I've had people asking for me to review these for months, so this will be a fun experiment! My wife is actually a CBD user, so for this review I had to actually get her input. I think she also planned on taking the rest of these after I was done going through my review. Before we get into this review, I'm going to do some background and info on these products for those who may not know much about CBD.
When you open the can, there is a present smell of cinnamon. It reminds me a lot of Big Red gum! There's also a spicy hint of cayenne. The portions are soft to the touch, and feel great under the upper lip. The flavor is a present taste of cinnamon, along with a hint of cayenne, and a light touch of chocolate. I find the flavor, on average, lasts up to about an hour!
Via the Cannadips website, CBD is "short for cannabidiol, and is one of the many plant-produced cannabinoid compounds and found within the hemp plant. You can source CBD from many different types of cannabis." Drugs.com says CBD is "effective at relieving anxiety, depression, pain, inflammation, and improving sleep". Inside each Cannadips pouch you'll find a proprietary fiber blend (coconut fiber, roasted chicory root), vegetable glycerin, cane sugar, organic palm oil, hemp CBD flakes (acacia tree gum, hemp concentrate, potato maltodextrin), natural flavors, and xanthan gum.
These come in a round, high quality tin can. They almost remind me of the cans of shoe polish my dad used when I was a kid. Each tin contains 15 CBD infused pouches. The tins themselves contain a TON of information and even have a peel off sticker to give you even MORE information about the product. The sticker was a bit difficult for a guy like me who bites his fingernails but that's my issue
I'm also ultra impressed by the QR code on the back that when you scan it takes you to your website to give you info about the specific TIN you've got in your hand. These guys have gone ALL IN to ensure the quality of their product and it shows. I was a little bummed not to see the BEST BY date printed on the can, but I did get a MANUFACTURE DATE when I clicked through using the QR code. I can only assume this is so they can keep their printing costs down on their cans – a fair trade off.
Cannadips Wintergreen CBD Pouches
This was a very nice dip. Again more of a traditional mint flavor. This has that 'after dinner' mint flavor with a real hint of 'breath mint' or Binacana flavors. This wouldn't be my favorite for an every day chew but would be AWESOME at the end of the night (or when you're going in for a smooch )
Cannadips Initial Thoughts
Special thanks to the folks at Cannadips for providing me samples to try and review. You can also find them on social at Facebook, Twitter @cannadipscbd or Instagram. Give them a like and a follow and tell em KillTheCan.org sent you!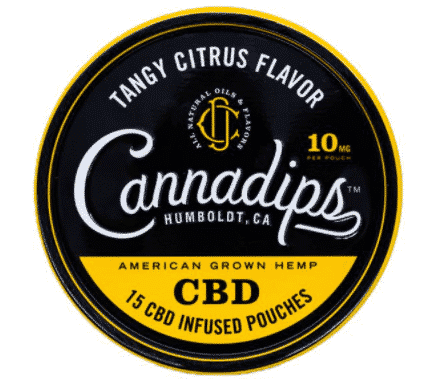 Cannadips CBD-infused dip pouches are available on the brand's website at cannadipscbd.com or cannadips.eu. The brand's products are strictly recommended for ages 21 years and above.
The brand claims to use organic palm oil in its CBD products. The European website of Cannadips provides certifications about the sustainable palm oil used in the brand's products.
Lexaria Biosciences claims that the DehyraTech process is patented for cannabis and hemp, nicotine, and nonsteroidal anti-inflammatory drugs (NSAIDS) (9) .
Cannadips claims that its products are safe and made from all-natural ingredients. However, the lab result for the contaminants is not included in the COA.
More About Cannadips
The first step in separating natural compounds from raw materials is extraction. Some of the methods used in extracting these natural compounds include distillation, solvent extraction, and sublimation (4) .
Cannadips offers free shipping for its California Roll 5-pack orders within the US.
Even though the brand has a limited product range, Cannadips prides itself on its CBD dip pouches, which it claims to be free of tetrahydrocannabinol (THC), nicotine, and tobacco. However, the source of hemp and extraction methods for the products are not specified.
Extraction Method
American Spice is the brand's full-American flavor with a blend of cinnamon, chocolate, and a hint of craft coffee.
Cannadips claims that its CBD products are made using the Lexaria Biosciences' DehydraTech process. This technology claims to mask unwanted tastes, reduce onset time, avoid first-pass liver metabolism, and increase bio-absorption and brain permeation (8) .