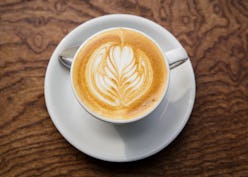 Despite this push towards legitimizing CBD research, New York City's health department recently told restaurants that CBD could not be served in edibles (like lattes) because it was "not safe as a food additive," according to Eater. CBD is still legal to sell on its own in other forms (and you're certainly free to spike your own latte), but the decision has cast doubt over the safety and efficacy of the ever-popular CBD lattes.
Once 2018 was declared the year of CBD, it seemed like you couldn't stop hearing about the product. The cannabis compound, which doesn't cause a high, has been shown to reduce anxiety, help you sleep, reduce inflammation, and more positive health effects. Whether you prefer chocolates, candies, ice cream, or lattes, CBD product developers never seem to cease expanding upon their creative offerings. But, what are the effects of mixing CBD with caffeine? Doesn't combining stimulating caffeine with supposedly soothing CBD seem kind of. counterintuitive?
Erin Magner writing for Well+Good said that some people report that mixing CBD with coffee amplifies alertness while taking the edge off of the sometimes harsh effects of caffeine. If downing an espresso leaves you feeling a little wired, a dash of CBD might mellow out that impact. "What I hear from people is that they're able to experience that nice, alert, focused energy of coffee without any of the jitters," Jewel Zimmer, founder of cannabis and CBD oil brand Juna, told Well+Good.
Theoretically speaking, you can combine any CBD oil with your coffee. However, that doesn't mean that you're going to get the same effect from every product. Here are a few things to look for when choosing your CBD oil:
Different producers use several methods to extract CBD from hemp, but they aren't all created equal. Look for products made using CO2 extraction, which tends to deliver the highest levels of potency and purity. Most CBD producers include information about their extraction process on their product label or website.
Livvy is a registered nurse (RN) and board-certified nurse midwife (CNM) in the state of New Jersey. After giving birth to her newborn daughter, Livvy stepped down from her full-time position at the Children's Hospital of New Jersey. This gave her the opportunity to spend more time writing articles on all topics related to pregnancy and prenatal care.
3. Check the THC
In the case of CBD—which many take for anxiety — it's not hard to see why one might have concerns about whether coffee will harsh the relaxation provided by their favorite cannabinoid.
The lack of clarity on how CBD and caffeine interact hasn't prevented many from not only using the two together but actually infusing CBD into their coffee.
The endocannabinoid system is a complex network of enzymes and receptors that your body uses to regulate functions relating to mood, sleep, appetite, memory, and many other biological elements. It uses molecules called endocannabinoids — which are produced both naturally in your body and can be introduced from outside sources — that link with receptors throughout your body to route signals that drive these functions.
4. Look for "whole-plant" or "full-spectrum."
Your email address will not be published. Required fields are marked *
For example, many who use CBD in conjunction with caffeine report that it helps to ease some of the jitters that coffee tends to elicit, thereby making them alert but calm. And for those who find that too much caffeine can cause anxiety—a common side effect when consuming an abundance of coffee—CBD's anti-anxiety properties can be the ideal solution. What's more, as a powerful anti-nausea agent, CBD can help those who experience upset stomachs when they drink coffee.
3 Smith A. "Effects of caffeine on human behavior." Food Chem Toxicol. 2002;40(9):1243-1255.
1 Lash R. "Industrial Hemp: The Crop for the Seventh Generation." Am Ind Law Rev. 2002;27(1):313-356.
Editor's note: This content was excerpted from a longer article, "Level up coffee and tea with CBD," in the "Steeped in innovation: Coffee and tea go beyond energy" digital magazine. Click the link to access both.
Mike Efting has been a senior executive in the chemical distribution industry for more than 35 years and an entrepreneur for well over a decade. He is the current president and founder of Viachem, a specialty chemical food additive and ingredient distributor, and American Pure Products, a wholly owned subsidiary of Viachem that includes premium personal care brands spanning hand sanitizer to CBD.
The three main types of CBD are full spectrum, broad spectrum and CBD isolate. Full spectrum contains all cannabinoids naturally found in the cannabis plant, including THC. Legally, full-spectrum hemp products cannot contain more than 0.3% THC. Broad spectrum contains multiple cannabinoids naturally found in the cannabis plant, without any THC, meaning it is nonpsychoactive (no danger of getting high). Isolate contains only CBD, no other cannabinoids. Regardless of which type of CBD producers choose, the most common form that appears in beverage products is CBD oil.
This is a prime yet time-sensitive market opportunity for beverage producers, as studies have shown that mixing CBD with caffeine can render a favorable outcome for consumers of these popular beverages. Incorporating CBD into coffee and tea-based product offerings could be a lucrative move.
2 Burstein S. "Cannabidiol (CBD) and its analogs: A review of their effects on inflammation." Bioorg Med Chem. 2015;23(7):1377-1385.
Since the 2018 Farm Bill passed, legalizing cannabinoids derived from hemp, CBD has taken the food and beverage industry by storm. It has shown up in sparkling water, seltzer, gummies, chocolate bars and more. Naturally, adding CBD to coffee and tea-based beverages containing caffeine is the next big thing.
Essentially, CBD coffee and CBD tea may provide energy without the jitters, especially for those sensitive to caffeine, because the CBD neutralizes the adverse side effects of drinking caffeinated beverages. Even for those who don't drink caffeine, sipping decaf coffee and tea infused with CBD is still an accessible way to reap the benefits of CBD while masking its flavor with a tastier one.