Meanwhile, several countries have approved CBD to treat certain conditions. For instance, the United Kingdom approved it for multiple sclerosis, and Canada approved it for cancer pain. Ongoing research suggests CBD oil for pain can aid medical conditions, including arthritis and fibromyalgia, at varying doses. Some pain may not be treatable by CBD alone, but it can help when paired with THC or Western medication applications.
An earlier study also found CBD to be effective in chronic pain relief for conditions like multiple sclerosis and spinal cord injury, although across a much smaller sample size [4] Wade DT, Robson P, House H, Makela P, Aram J. A preliminary controlled study to determine whether whole-plant cannabis extracts can improve intractable neurogenic symptoms. Clin Rehabil. 2003;17(1):21-29. .
CBD for Pain Relief
In clinical trials, Sativex, a spray with equal parts CBD and THC, proved significantly successful as an analgesic for cancer-related pain [2] Russo EB. Cannabinoids in the management of difficult to treat pain. Ther Clin Risk Manag. 2008;4(1):245-259. . The spray, also used for multiple sclerosis-related pain, is approved in Canada to treat cancer pain and is currently undergoing trials for approval and use in the U.S.
CBD for Chronic Pain
The first controlled trial conducted in 2006 focused on patients with rheumatoid arthritis, an autoimmune disease that causes inflammation in the joints and other affected areas [9] Blake DR, Robson P, Ho M, Jubb RW, McCabe CS. Preliminary assessment of the efficacy, tolerability and safety of a cannabis-based medicine (Sativex) in the treatment of pain caused by rheumatoid arthritis. Rheumatology (Oxford). 2006;45(1):50-52. . Researchers found that, compared to a placebo, Sativex significantly improved participants' pain during movement, pain at rest and quality of sleep. Any adverse reactions to the treatment were mild or moderate, and there were no complications with withdrawal.
4. Philpott HT, et al. Attenuation of early phase inflammation by cannabidiol prevents pain and nerve damage in rat osteoarthritis. Pain. 2017 Dec; 158(12): 2442–2451.
Because of the way the endocannabinoid system works, the bioavailability of CBD is an important factor in how you will respond. Bioavailability is the amount of a substance that successfully makes it into the bloodstream and has an effect. Think about how some medications require you to take them with food or water, or on an empty stomach. Well, the amount of CBD that you actually absorb when taking a CBD product works the same way and will depend on:
Here's the bottom line: CBD products that come from the hemp plant (meaning the THC level does not go above 0.3%) are legal across the country. CBD products that come from non-hemp marijuana (meaning the THC levels may go above 0.3%) may be legal depending on the state you live in but are not legal at the federal level. 3
These days, it seems like you can purchase CBD just about anywhere, but if it's an option, you may want to visit a medical marijuana dispensary. Buying CDB from a medical dispensary doesn't guarantee the product's quality but it's a good place to start. Before you go:
How does CBD help pain?
14. Bruni N, Della Pepa C, Oliaro-Bosso S, et al. Cannabinoid delivery systems for pain and inflammation treatment. Molecules. 2018;23(10):2478.
Scientists are still discovering the different ways in which CBD may help to fight disease and reduce pain and its related symptoms. They are also still working to understand the functionality of CBD as an isolated compound versus a whole plant. For example, you may come across product descriptions such as CBD isolate, Full Spectrum CBD, and Broad Spectrum CBD.
The dosage of CBD that works for your pain will depend on the amount/percentage of CBD in the product, how you take it (whether by mouth, inhalation, or topical application) and your body weight and chemistry (several websites offer CBD calculators to determine a starting dose). The best thing is to speak with your doctor or a budtender (essentially a dispensary pharmacist) before choosing a CBD dosage. If your doctor does not recommend a dose, it is best to start small and gradually increase the dose from there until you achieve the desired effect.
Your Body Chemistry Matters
What's more, CBD has minimal side effects and a low-risk, zero-addiction profile. But before you pop a gummy or ingest an oil, you'll want to read on.
What about all those CBD products you're seeing in line at the supermarket, the local health food store, and online? The market for CBD has basically exploded in the past few years but is completely unregulated. The CBD you buy may come from hemp or may not. It may contain the amount of CBD it claims or may not. It also may contain more THC than it claims. Welcome to the budding world (pun intended) of medicinal CBD.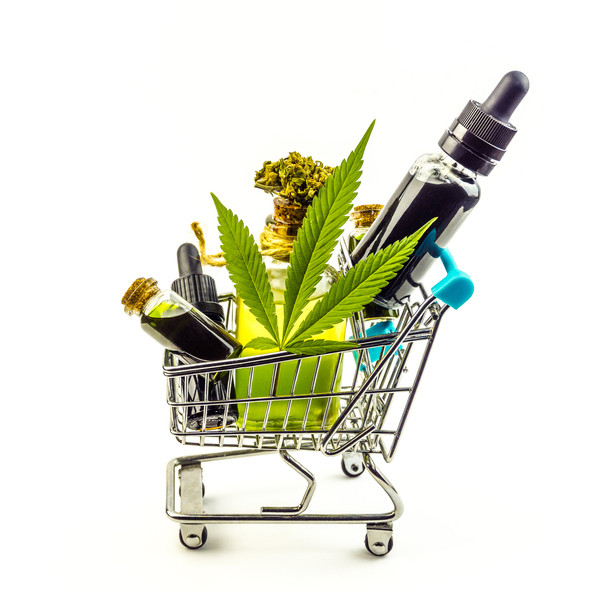 Cannabis (most commonly obtained from the Cannabis indica and Cannabis sativa plants) has three major components: cannabinoids, terpenoids, and flavonoids. While there are over a hundred different cannabinoids, the two major components are tetrahydrocannabional (THC) and cannabidiol (CBD). Historically more attention has been paid to the psychoactive (euphoric "getting high") component of the cannabis plant, THC; there have been fewer scientific studies on the medical use of CBD, a non-psychoactive component of the plant.
What's the thinking behind using cannabis for chronic pain?
As a service to our readers, Harvard Health Publishing provides access to our library of archived content. Please note the date of last review or update on all articles. No content on this site, regardless of date, should ever be used as a substitute for direct medical advice from your doctor or other qualified clinician.
Disclaimer:
Given its promising results in animal models, along with its relative safety, non-psychoactive properties, and low potential for abuse, CBD is an attractive candidate to relieve pain. Unfortunately, there is a lack of human studies about the effectiveness of CBD. However, there is an abundance of commercial advertisements about the magical effects of CBD, and it is frequently presented as a cure-it-all potion that will treat everything including diabetes, depression, cancer, chronic pain, and even your dog's anxiety!