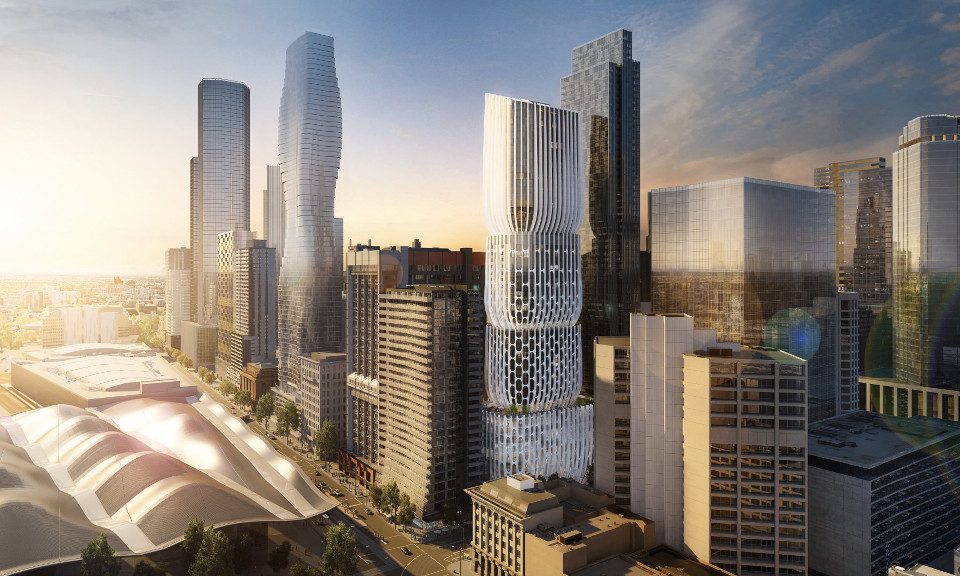 The delicate filigree enveloping the tower's foundations ensures that an aesthetically-inviting frontage is visible from all surrounding areas. Further to this, the new design promises to use 50 percent less energy than a conventional mixed-use tower, through its filigreed exterior that contributes to a reduction in structure's direct solar. In addition, a high performance glazing system and grey-water reuse system will assist in the overall efficiency of the building.
Inspired by the district's historic architecture, the building's lattice façade mimics the traditions that echo throughout the city centre, while its overall structure of stacked vase-like volumes provides a distinctive landmark within a network of pre-existing skyscrapers. Central to the new 178 metre tower is its curved units that taper towards ground-level in a way that counteracts the tower's height and verticality. On a functional note, this narrowing provides additional communal space at its base, encouraging a high level of public engagement.
Zaha Hadid Architects and Plus Architecture's design for a new 54-storey tower in Melbourne has been approved by the Victorian Government. The proposed structure, situated at the nexus between Collins Street and the Docklands in Melbourne's Central Business District (CBD), boasts a total of 420 apartments, retail and office spaces, and a publicly-accessible plaza, terrace, and art space, as well as a new pedestrian link enabling commuters to access the nearby Southern Cross railway station.
This is the first Melbourne project designed by the late architect and Pritzker Prize Laureate Zaha Hadid (1950-2016), and once completed, will become one of Zaha Hadid Architect's first projects to be realised in Australia. Hadid is internationally recognised for her built, theoretical and academic work in the fields of urbanism, architecture and design.
Building Designers often specialise in a particular type of design, ranging from houses to shopping centres to churches and schools, and even heritage building restoration.
Building Designers may have a background in building, drafting; or trained Architects who haven't registered with their industry body.
Responsible for creative, efficient design of buildings for clients, the role of a Building Designer covers a wide range of activities. Similar to a Draftsperson or an Architect, Building Designers have the unique benefit of not requiring qualifications to be able to undertake their work in Australia.
Building Designers spend a lot of time on building sites, but work primarily from their office. Overtime can be required to meet project timelines.