Inhibition of FAAH or FABPs decrease the breakdown of AEA leading to less cellular uptake and prolonged physiological effects. The Bial clinical trial has temporarily set back the approach of employing a FAAH inhibitor. However, other FAAH inhibitors have been shown to be safe in Phase 2 clinical studies and these may be pursued in the future for indications, for example, such stress-related disorders. FABP inhibitors provide another approach for raising AEA levels. Since FABPs have some tissue specificity, it may be possible to design inhibitors that target specific organs, such as the brain, more easily than with FAAH inhibitors.
This perspective was adapted from a Career Achievement Award talk given at the International Cannabinoid Research Society Symposium in Bukovina, Poland on June 27, 2016. As a biochemist working in the neurosciences, I was always fascinated with neurotransmitter inactivation. In 1993 we identified an enzyme activity that breaks down anandamide. We called the enzyme anandamide amidase, now called FAAH. We and other laboratories developed FAAH inhibitors that were useful reagents that also proved to have beneficial physiological effects and until recently, new generations of inhibitors were in clinical trials. Nearly all neurotransmitters are water soluble and as such, require a transmembrane protein transporter to pass through the lipid membrane for inactivation inside the cell. However, using model systems, we and others have shown that this is unnecessary for anandamide, an uncharged hydrophobic molecule that readily diffuses across the cellular membrane. Interestingly, its uptake is driven by the concentration gradient resulting from its breakdown mainly by FAAH localized in the endoplasmic reticulum. We identified the FABPs as intracellular carriers that "solubilize" anandamide, transporting anandamide to FAAH. Compounds that bind to FABPs block AEA breakdown, raising its level. The cannabinoids (THC and CBD) also were discovered to bind FABPs and this may be one of the mechanisms by which CBD works in childhood epilepsy, raising anandamide levels. Targeting FABPs may be advantageous since they have some tissue specificity and do not require reactive serine hydrolase inhibitors, as does FAAH, with potential for off-target reactions. At the International Cannabis Research Society Symposium in 1992, Raphe Mechoulam revealed that his laboratory isolated an endogenous lipid molecule that binds to the CB1 receptor (cannabinoid receptor type 1) and this became the milestone paper published in December of that year describing anandamide (AEA, Devane et al., 1992). As to be expected, this discovery raised the issues of AEA's synthesis and breakdown.
The Hydrolysis of Anandamide to Arachidonic Acid and Ethanolamine by FAAH.
In 1993 we were the first to show, with rather rudimentary experiments, that AEA was actively taken up in neuroblastoma and glioma cells (Deutsch and Chin, 1993). In 1994 the uptake of AEA was confirmed and the mechanism was postulated to involve an ATP independent active membrane transporter (Di Marzo et al., 1994). The hypothesis of an AEA transmembrane transporter became dogma for many years and the "hunt" still goes on for this "putative" anandamide membrane transporter (AMT) also called the "putative endocannabinoid membrane transporter (EMT, Ligresti et al., 2010; Nicolussi et al., 2014; Nicolussi and Gertsch, 2015). Many of the AMT (EMT) proposals have fallen by the wayside. For example, a paper first showed uptake was FAAH independent and then a decade later it was proposed that a FAAH fragment called FLAT (FAAH-like anandamide transporter) was the transmembrane transporter (Fegley et al., 2004; Fu et al., 2012), the latter being questioned (Leung et al., 2013; Björklund et al., 2014; Fowler, 2014). The evidence for a transmembrane transporter was based on enzyme saturation kinetics in cell culture, uptake studies in cells and the physiological effects of "membrane transporter inhibitors." Many dozens of such inhibitors were proposed. However, it was shown that the kinetics of uptake of AEA can show saturation owing to the passage of hydrophobic AEA through the water layer surrounding the cell and that many of these transport inhibitors were in fact FAAH inhibitors or FAAH substrates or bound to receptors confounding the mechanism of their physiological effects (Glaser et al., 2003; Alexander and Cravatt, 2006; Bojesen and Hansen, 2006; Nicolussi and Gertsch, 2015). Furthermore, it was demonstrated that AEA can freely pass through an artificial membrane without the aid of any protein (Figure ​ (Figure2, 2 , Bojesen and Hansen, 2005; Di Pasquale et al., 2009; Kaczocha et al., 2012a; Fowler, 2013, 2015). A transmembrane protein transporter has not been identified to date and the effects of these inhibitors appear to occur downstream and many of the so-called transporter inhibitors were in fact FAAH or FABP inhibitors.
Author contributions
Specific inhibitors of the FABPs were developed at Stony Brook such as SBFI26 that led to an increase in AEA levels in the brains of animals and had physiological effects. As shown in Figure ​ Figure2, 2 , inhibiting the FABPs will reduce the AEA delivery to FAAH and disrupt the outward/inward concentration gradient driven by FAAH. Intriguingly, the truxillic acid structure of SBFI26 is the core structure of (−)-incarvillateine, the active component from a Chinese herb used for rheumatism (Berger et al., 2012). It was found that some of the inhibitors (such as OMDM1, OMDM2, VDM11, AM1172, AM404) of the "putative" transmembrane transporter, inhibit FABPs, perhaps explaining, in part, their mechanism of action (Kaczocha et al., 2012b).
The author declares that the research was conducted in the absence of any commercial or financial relationships that could be construed as a potential conflict of interest.
The "golden age," with hundreds of FAAH inhibitors developed, followed these early reports, in part as a result of cloning, crystal structure determination, and the development of assays (activity-based protein profiling to determine off-target reactions, Cravatt et al., 1996; Leung et al., 2003; McKinney and Cravatt, 2005; Mileni et al., 2008; Fowler, 2015). These inhibitors compromise, for example; α-ketoheterocycle, carbamate (e.g., URB597), aryl and piperidine/piperazine ureas (e.g., PF-3845, PF-04457845), azetidine urea, azetidine, boronic acid, azole, and ethylaminopyrimidines, and tetrahydronaphthyridine, derivatives from a variety of academic and industrial institutions (Khanna and Alexander, 2011; Fowler, 2015; Lodola et al., 2015). Recently, Phase 1 clinical trials with BIA 10-2474 (from the Bial pharmaceutical company) were terminated owing to the death and sickening of some volunteers (Casassus, 2016). However, a Phase 2 trial with the Pfizer FAAH inhibitor PF-04457845 was completed and the compound was well tolerated in osteoarthritis patients but there was a lack of analgesic effect in the knee (Huggins et al., 2012). Johnson and Johnson suspended its Phase 2 clinical trial with JNJ-42165279 for anxiety and depression owing to the Bial results, as did Pfizer with PF-04457845 for Tourette Syndrome and cannabis dependence trials.
Anandamide synthesis
In 1993 an enzyme we called anandamide amidase, now named called FAAH, was shown to break AEA down to arachidonic acid and ethanolamine (Figure ​ (Figure1) 1 ) in the membrane fractions of most rat tissues except in leg and heart muscle (Deutsch and Chin, 1993). This activity was reported in liver microsomes for fatty acid amides, other than anandamide (Bachur and Udenfriend, 1966; Schmid et al., 1985). This lack of breakdown activity in muscle was fortuitous for the success of the vas deferens assay that was employed in the discovery of AEA in 1992 (Devane et al., 1992; Pertwee et al., 1995). In our original assay we used thin layer chromatography with AEA radio-labeled in the arachidonate portion of the molecule, but later ethanolamine labeled AEA simplified the assay procedure by permitting measurement of radiolabel without a thin layer chromatography step (Omeir et al., 1995). Cloning of the enzyme permitted more detailed molecular studies including ones that showed uniquely two serine residues in the active site (Omeir et al., 1999; Patricelli et al., 1999) and that FAAH was localized to the endoplasmic reticulum (Cravatt et al., 1996). FAAH is the main player in AEA inactivation although other pathways have been implicated in the metabolism of AEA as well (van der Stelt et al., 2002; Rahman et al., 2014).
The uptake of AEA into cells is unique in that its uptake is coupled to its breakdown by the catabolic enzyme FAAH located at the endoplasmic reticulum (Figure ​ (Figure2). 2 ). Uptake rates in different cells are generally correlated with inherent FAAH concentration and the rate increases further with transfection of FAAH (Day et al., 2001; Deutsch et al., 2001). Conversely, uptake rates are generally negatively correlated with the degree of FAAH inhibition, although in some cells other catabolic enzymes and their inhibitors may play a role, such as COX-2 and NAAA (Fowler et al., 2004, 2013; Glaser et al., 2005; Hillard and Jarrahian, 2005). FAAH removes AEA from inside the cell, disrupting the equilibrium between inside and outside the cell, generating a concentration gradient that drives uptake (Figure ​ (Figure2 2 ).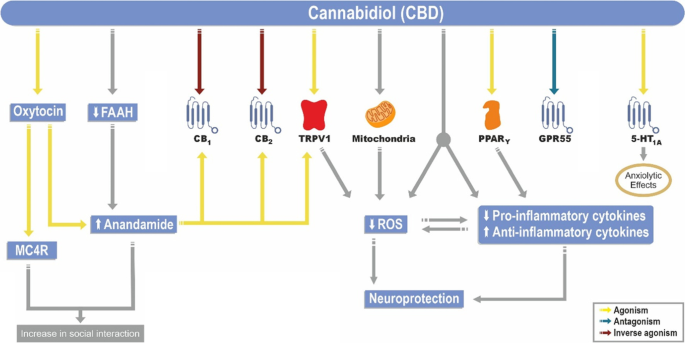 Using lower doses of CBD and trace THC seems to be promising in the management of behavioral problems associated with autism. In addition, this treatment could be effective in managing core symptoms and cognitive functions. No significant side effects were seen at the low doses of CBD-enriched cannabis when compared to other studies.
Using lower doses of CBD and trace THC seems to be promising in managing behavioral problems associated with autism. In addition, this treatment could be effective in managing the core symptoms and cognitive functions. No significant side effects were seen at the low doses of CBD-enriched cannabis when compared to other studies.
According to Aren et al.'s study, adverse events such as hypervigilance aggravated sleep disturbances in 14% of patients. This side effect was resolved by omitting or adjusting the evening doses. Irritability in 9% and loss of appetite in 9% were seen. A thirteen-year-old girl received 6.5 mg/kg/day CBD and no other medications; when she gradually increased the THC dose up to 0.72 mg/kg/day, she developed sudden behavioral changes such as unusual vocalization and refusal to sleep and eat for two days. The symptoms resolved when she stopped CBD and THC and received antipsychotic treatment (ziprasidone). After cannabis treatment, psychiatric medications were regulated in most patients; 33% received fewer or lower doses, 24% stopped taking medications, and 8% received more medication or higher doses (Aran et al. 2019). Lihi Bar-Lev Schleider et al. reported mild side effects such as restlessness, sleepiness, dry mouth, and digestion problems (Lihi Bar-Lev Schleider et al. 2019). Paulo Fleury et al. reported that three patients stopped using CBD-enriched cannabis in a period shorter than one month due to side effects (autistic behaviors had worsened in two patients, which might happen due to the unsupervised and sudden cessation of the antipsychotics; one patient had insomnia, irritability, increased heart rate, and worsening of psych-behavioral crises that might be due to the interaction of cannabis with previous prescribed antipsychotic drugs). Mild and transient adverse effects such as sleepiness, moderate irritability, diarrhea, increased appetite, conjunctival hyperemia, and increased body temperature were also reported (Paulo Fleury et al. 2019).
The outcomes were evaluated before and after treatment based on clinical interviews. At each follow-up visit, parents were asked to evaluate the effectiveness of the CBD-enriched cannabis treatment. According to the parents' reports, no change in daily life activity was reported in 6 (19.35%) patients. The main improvements of the treatment were as follows: a decrease in behavioral problems was reported in 10 patients (32.2%), an increase in expressive language was reported in 7 patients (22.5%), improved cognition was reported in 4 patients (12,9%), an increase in social interaction was reported in 3 patients (9.6%), and a decrease in stereotypes was reported in 1 patient (3.2%). The parents reported improvement in cognition among patients who adhered to CBD-enriched cannabis treatment for over two years. The antipsychotic drug could be stopped only in one patient who showed mild ASD symptoms. No change could be made in other drug use and doses. Additionally, this study includes an extensive review of the literature regarding CBD treatment in autism spectrum disorder. According to recent studies, the average dose of CBD was 3.8±2.6 mg/kg/day. The ratio of CBD to THC in the used preparations was 20:1. The most significant improvements were seen in the behavioral problems reported in 20–70% of the patients.
Conclusion
The legal basis for using cannabis-related drugs is not fully apparent in Turkey, and a maximum of 0.3% THC is allowed to be used in these preparations. Due to the lack of availability and difficulty of access to these therapeutic preparations, various cannabis strains of CBD-enriched cannabis extracts have been used. The two CBD-enriched cannabis brands used were CBDistillery and CBDodgamax. Both had similar available forms of drops of 500, 1000, and 2500 mg/30 ml and contained full-spectrum CBD and trace THC. These drops were started with dosages that were calculated according to the patient's body weight, with one sublingual drop twice a day and one drop every three days. The average daily CBD-enriched cannabis dose was 0.7 mg/kg (0.3–2 mg/kg). No patient was given a daily maintenance dose of CBD higher than 40 mg/day. The average duration of treatment was 6.5 months (3–28 months).
Autism spectrum disorder is a neurodevelopmental disorder characterized by deficits in communication, social interaction, restricted interest, and repetitive behaviors. Although more cases are being diagnosed, no drugs are approved to treat the core symptoms or cognitive and behavioral problems associated with autism. Therefore, there is an urgent need to develop an effective and safe treatment.
There are two endogenous cannabinoids, N-arachidonoylethanolamine (anandamide) and two arachidonoylglycerols (2-AG). The ECS has been broadened by discovering new secondary receptors, ligands, and ligand metabolic enzymes, including transient receptor potential cation channel subfamily V member 1 (TRPV1) (Mc Partlan et al. 2014).
Materials and methods
The popularity of CBD-enriched cannabis for the treatment of autism is increasing. Scoping reviews were done to achieve a broad and thorough examination of the literature in this area. Aran et al. (2019) were the first to retrospectively assess CBD-enriched cannabis effects on 60 children with ASD and severe behavioral problems using an open-label cohort study. The mean age was 11.8 ± 3.5 years; 82% of patients used psychiatric medications; 77% of patients had low cognitive function; and 23.3% of patients had epilepsy. All the children received CBD and THC in a 20:1 ratio. The mean total daily dose was 3.8 ± 2.6 mg/kg/day CBD and 0.29 ± 0.22 mg/kg/day THC for children who received three daily doses (n=44) and 1.8 ± 1.6 mg/kg/day CBD and 0.22 ± 0.14 mg/kg/day THC for children who received two daily doses (n=16). The doses were titrated over 2–4 weeks. The mean follow-up period was 10.9 ± 2.3 months. Efficacy was assessed using the Caregiver Global Impression of Change (CaGI) scale. Considerable improvement in behavioral problems was noticed in 61% of patients. Improvement in anxiety and communication problems was seen in 39 and 47%, respectively. Based on these promising results, Aren et al. launched a new placebo-controlled crossover trial. This study is ongoing, and new outcomes will be addressed in future publications (Aran et al. 2019).
The etiopathogenesis of ASD remains largely unknown. Several genetic, perinatal, and environmental factors seem to be involved. Some researchers have evidenced an imbalance in the endogenous neurotransmission system, such as the serotoninergic, γ aminobutyric acid (GABA), and endocannabinoid system (ECS), which regulate functions such as emotional responses and social interactions typically impaired in ASD (Fusar-Poli et al. 2020).