Epilepsy
Cannabidiol or CBD is one of the 100+ products that come from the cannabis plant. It is a non-intoxicating component known for its medicinal and therapeutic values on the human mind and body, and as researchers learn more about its power, this component has come to be widely a used in everything from cheeseburgers to skin lotions.
CBD is a great option for those suffering from epilepsy as it calms the brain area responsible for these seizures. More importantly, research shows that it can also treat complications coming from epilepsy such as neuronal injury and possibly even psychiatric diseases.
Depression
Sales of CBD or cannabidiol products are expected to grow fast in the U.S., according to industry source Hemp Business Journal. The buzz around the extract derived from the cannabis plant is growing even bigger now that drug store chains CVS and Walgreens announced in short succession last week that they will be stocking CBD products in the future.
CBD was also given a boost by the 2018 Farm Bill. The extract, which does not have an intoxicating effect, was legalized together with industrial hemp on the federal level in December. Before, CBD had already become legal in some states, which passed laws legalizing recreational marijuana containing THC, and in others, like Kentucky, North Carolina and Tennessee, which had legalized only cannabidiol.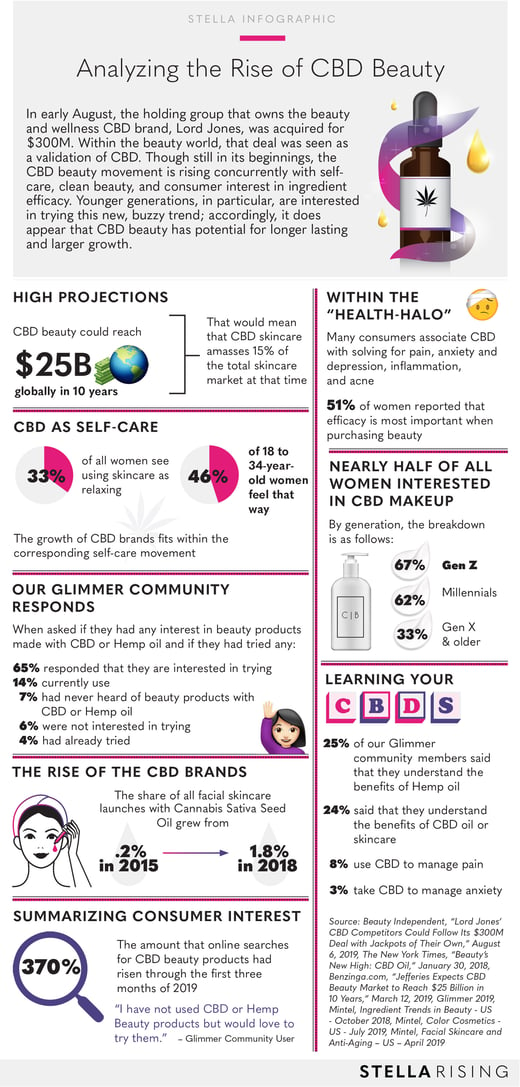 The passage of the Farm Bill bolstered the rise of CBD brands, allowing hemp-derived CBD products to cross state lines and legalizing industrial hemp. CBD beauty products, soaring in popularity for many of the reasons we highlight below, are piquing consumer interest. Yet as clean beauty dominates, we recommend that, in order to gain broader traction, CBD beauty brands highlight efficacy and self-care, rather than the psychoactive aspect of marijuana.
Stella Rising employs research to deeply understand both the consumer and emerging trends. Seeking to power your marketing mix with intelligent strategy? Connect with us.