If you apply to register or apply for a licence after these cut-off dates, we cannot guarantee processing times and we may have to reject your application or registration request.
or call 0300 105 4848
If you apply after the cut-off dates
If your company no longer needs a controlled drugs licence you will need to submit a controlled drugs licence return premises closure statement. Even if you continue to trade but no longer handle controlled drugs you will need to submit a statement.
You can report any theft or unaccounted losses of controlled drugs by email to [email protected] using the thefts and losses form.
Thefts and losses
Our fees cover the costs of processing an application and are charged per licensing decision so different fee levels may apply. The fee levels are set out in the Misuse of Drugs Regulations 2010. Read the full list of fees for controlled drugs licences.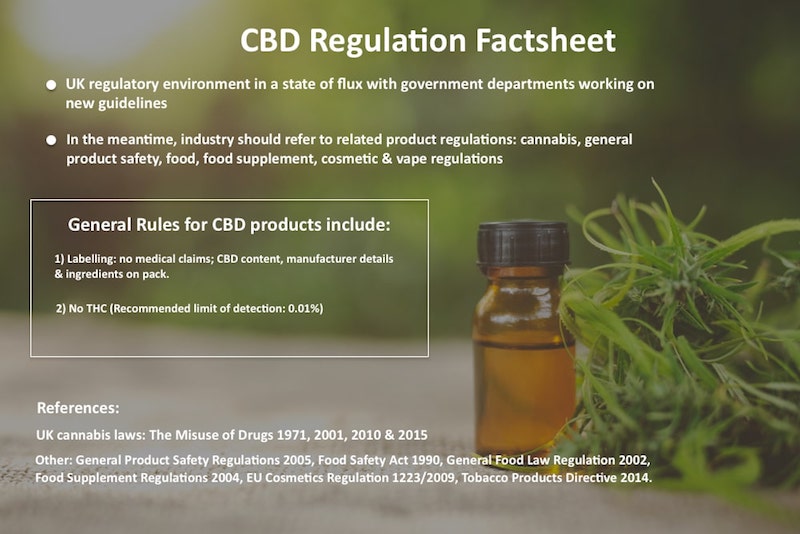 Are you a CBD business? Build brand awareness and get higher in internet search rankings by joining our CBD directory here
Speed read: CBD regulation UK in 1 min
Want to learn more about CBD regulation across food/drink, cosmetics and vape industry? Watch our step by step video guide. Subscribe here to get early bird discount (course available September 2021).
Who should read this
Authorities in EU member states now regard food, drink and food supplements with CBD as a "novel food". A key regulation of novel foods is premarket authorisation which means any manufacturer intending to put CBD into food are required to apply to the European Commission via an online application.