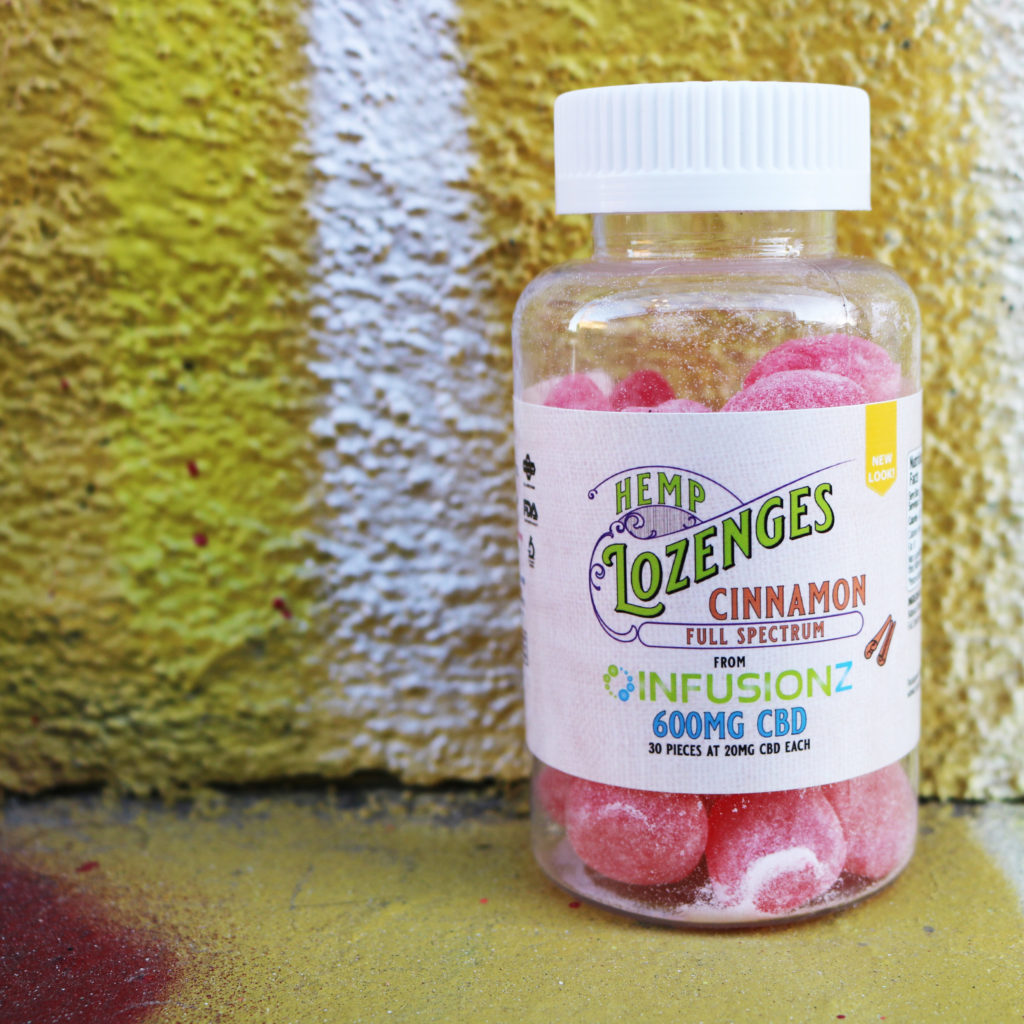 1`These great-tasting lozenges can also be customized with 2.5 mg of melatonin (per piece) if you want to make this a nighttime formula. You can store them at room temperature for up to a year, and their portability and convenience make them a top choice on our list of CBD lozenges.
Company: The Cinnamon CBD Hemp Lozenges by Infusionz are the most customizable CBD lozenges on our list. Customers can select from 200-, 600-, or 1200-mg options and among full-spectrum lozenges or a broad-spectrum formulation containing no THC.
The Best CBD Lozenge for You
Thanks to the industrial hemp acts of 2014 and 2018, American-grown hemp is the cleanest and safest in the world. The strict growing methods employed ensure that the soil is uncontaminated, which is more difficult to verify with imported hemp.
Cannabidiol (CBD) is one of many compounds found in the cannabis plant. But unlike THC, it's non-psychoactive, so it doesn't cause a high. Mounting clinical studies indicate that CBD has many possible health benefits, and there are several ways to take it, including gummies, oils, topical formulas, and more. CBD lozenges are among the newest and most innovative product offerings on the market. Want to find the best CBD lozenges? That's why we're here.
The 5 Best CBD Lozenges
Featured CBD Brands:
Trokie's CBD salve contains 150mg of CBD, along with aloe and tea tree oil. They describe it as a proprietary blend of luxury skin ingredients. Other all-natural ingredients include rosemary and olive oil.
Trokie CBD describes itself as a "premier manufacturer and global distributor of certified, pharmaceutical grade CBD products." Since the company was founded by a qualified physician, they certainly have the knowledge and expertise to substantiate this claim.
Dr. Kent Crowley is a trained executive with over 30 years of experience in the pharmaceutical industry and clinical medicine. He launched the brand in 2014 with the introduction of Trokie Fast Melt Tabs, which were designed to help young cancer patients combat chemo-associated nausea. After years of extensive research, the brand has expanded its CBD line to include several other CBD products.
They are designed to be fast-acting and long-lasting, therefore, delivering the desired effects rapidly. A patented upper gum delivery system is used to ensure rapid delivery. They're similar to subliingual tinctures, but placement under the upper lip (buccal) reduces saliva contact, therefore more compounds absorb directly into the bloodstream and avoid the digestive tract. Trokie claims that its lozenges deliver a precise dose of cannabidiol quicker than any other CBD lozenge on the market based on the route of administration (buccal) and research.
Trokie CBD Salve
Trokie CBD does not sell your typical CBD products. Unlike most other brands, you won't find any CBD tinctures or gummies here. Instead, the brand specializes in lozenges (fast melt tabs), capsules, patches, and salves. The lozenges are the only products available in several varieties; each of the other items only comes in one option.
According to Trokie, these nanocapsules are six times more absorbable, which means you get more value for money compared to traditional capsules. One bottle of 30 capsules will cost you $70.
Read on for the full review or head over to the Tokie website to view their entire product range. Use the exclusive WayofLeaf coupon code below to save 10% on all purchases.
Trokie CBD Review
Trokie's lozenges are labeled as Fast Melt Tabs, and they are available in two varieties: regular and with melatonin. Each variety comes in 100mg (10 servings) or 500mg (50 servings); a serving is 10mg CBD in both the 100mg and the 500mg options.
Trokie is a leading brand in the CBD industry when it comes to lozenges, patches, and nanocapsules. Products are developed by an expert team of medical doctors, biochemists, and a doctor of pharmacy. Trokie is committed to setting the gold standard for CBD products in the industry.
Participants using Trokie ® lozenges reported a mean reduction in pain intensity of 4.9 ± 2.0 points (A), from a median value of 7.4 (pre-treatment, dark blue circles) to 2.4 (post-treatment, light blue diamonds) on an 11-point scale (0 = no pain, 10 = worst pain imaginable). Among 31 participants using opiates, 26 (84%) reduced in some degree or completely discontinued their use of opiate medication (B).
Pain intensity was calculated as the difference between PI-NRS values reported on December 2016 and those reported at enrollment, and it is expressed as mean ± standard deviation of the mean. Significance of differences was determined using a paired t-test (PI-NRS before vs. PI-NRS after). Differences were considered significant if P < 0.05. Statistical analyses were conducted using GraphPad Prism Version 7.0 (San Diego, CA, United States). Patient-reported AEs were analyzed descriptively using IBM SPSS Statistics version 23 (Armonk, New York, NY, United States).
A total of 49 participants (15 males/34 females) with an average age of 59.9 years completed the study (descriptive statistics in Supplementary Table 1). An average reduction in PI-NRS score of 4.9 ± 2.0 points (from 7.4 ± 1.3 to 2.4 ± 1.8) was observed (Figure ​ Figure1A 1A ). Also, among 31 participants using opiates, 26 (84%) voluntarily reduced or discontinued their use of opiate medication (Figure ​ Figure1B 1B ). These reductions were completed by participants with no reported symptoms of opiate withdrawal. Lastly, all participants reported feeling an improvement in their condition (100%) and an onset of analgesia between 5 and 40 min.
Study 1: Effectiveness of the Delivery System
Trokie ® lozenge is a cannabis-based product currently available in six states of the Union (Arizona, California, Florida, Iowa, Nevada, and Minnesota) and Puerto Rico. Two observational studies were conducted with California-certified cannabis patients to assess the effectiveness and safety of Trokie ® lozenges. First, we focused on the effectiveness of Trokie ® lozenges to deliver cannabinoids, namely THC and CBD, through the buccal mucosa: does it work in practice? (Haynes, 1999). Our findings indicate that the use of Trokie ® lozenges is associated with a self-reported pain reduction in chronic, non-cancer pain patients, a condition for which the efficacy of cannabis has been previously described (Lynch and Ware, 2015). Of note, reported time to onset was between 5 and 40 min which, considering lozenges take 20–25 min to dissolve, seems consistent with, at least partial, buccal absorption (Karschner et al., 2011). However, it is reasonable to assume that it can also be swallowed with saliva. Correct placement in the mouth appeared to be critical for minimizing saliva production. Next, we aimed at assessing the safety of Trokie ® lozenges and the kind of AEs that could be associated with its long-term use: is it safe to use? Seven different AEs were reported by participants, one of them related to the organoleptic qualities of the product (bad taste) and the rest being common to other cannabis products containing THC, such as dizziness or dry mouth, none of which resulted in a serious medical situation and only had limited impact on daily functioning. Interestingly, our results are in strong agreement with a recent study performed in Israel on a large cohort of elderly (over 900 participants, 74.5 ± 7.5 years) reporting a reduction of pain levels from a median of 8 to a median of 4 on a scale of 0–10 after 6 months of cannabis treatment. Further, most common AEs were dizziness (10%), dry mouth (7%), and 18% of participants stopped using opiate analgesics or reduced their dose (Abuhasira et al., 2018). In our case, the proportion of participants reducing or discontinuing opiate analgesics was significantly larger (84%), similar to what has been previously found in a study based on patient self-reports (Reiman et al., 2017). This may be explained by the extensive use of opiate medication in the United States and the fact that many PCC members are seeking cannabis treatment because they "want to get off opiates and don't want to get high" (personal communications with PCC staff).
Therapeutic use of cannabinoids, the main active ingredients of Cannabis sativa L., is often hindered by their limited bioavailability and undesirable psychoactivity. We conducted an observational study in December 2016 and another one in February 2018 to investigate respectively: (i) the effectiveness of Trokie ® lozenges, a standardized formulation containing cannabis extracts, to deliver cannabinoids via buccal absorption and (ii) its long-term safety. Participants were members of the Palliative Care Corporation health clinic, registered California cannabis patients, and had a diagnosis of chronic non-cancer pain. For the effectiveness study, 49 participants were asked to self-report pain perception before and after 1–12 weeks of taking Trokie ® lozenges, using an 11-point pain intensity numeric rating scale (PI-NRS). A mean reduction in PI-NRS score of 4.9 ± 2.0 points was observed. Onset of analgesia typically varied between 5 and 40 min, which seems consistent with, at least partial, buccal absorption. In the safety study, 35 participants were asked to complete a questionnaire about adverse events (AEs) associated with Trokie ® lozenges. AEs were reported by 16 subjects (46%), the most common being dizziness/unsteadiness (N = 7), bad taste (N = 5), and throat irritation/dry mouth (N = 4). None of the self-reported AEs resulted in a serious medical situation and most of them had limited impact on daily functions. Despite the AEs, 90% of participants reported being "satisfied" or "very satisfied" with the product. These observations suggest that buccal administration of standardized extracts via Trokie ® lozenges may represent an efficacious and safe approach to cannabis administration.
Analyses
Legalization of medical and recreational cannabis has bypassed the usual drug regulatory procedures in jurisdictions worldwide. Pending sound evidence for its effects in many conditions, physicians face the challenge of continuing to provide competent, compassionate care with an emphasis in harm reduction. Nevertheless, this regulatory scenario creates unprecedented opportunities to study the clinical impact of cannabinoids in human health and behavior. An illustrative example of how commodities can revolutionize the way we perform biomedical research are consumer physical activity monitors, which have raised enormous interest to physiology and psychopathology research because of their ability to measure activity continuously under real-life conditions and because they are already widely used by consumers (Wright et al., 2017). We believe the present results provide valuable information in terms of route validation, dosage selection and expected AEs, while cognizant of the severe limitations of our design due to the nature of the research, such as biased participant selection, lack of blinding or absence of placebo control. Therefore, these results should not be interpreted to establish any causality between the use of Trokie ® lozenges and the improvement in participants well-being. However, the findings support the need for conducting a phase 1 clinical trial to formally characterize the pharmacokinetic profile of Trokie ® lozenges in humans.
Nature of the reported adverse events (AEs).