A CBD isolate is a pure compound with no other active compounds or cannabinoids. The full-spectrum compounds may include other active chemicals, such as cannabinol and cannabis terpenes (the part of the plant that gives the plant its aroma).
While some CBD oils claim to be isolates, they may be full-spectrum oils and actually contain more cannabinoids (such as THC) than they claim.
Using Product With THC
CBD (cannabidiol) oil is a popular product for everything from pain control and anxiety to promoting sleep. However, with the rise of CBD use comes a concern about failing a drug test.
Use the utmost caution and do your research when purchasing a quality CBD oil product to ensure its purity, especially if you need to undergo a drug screening.
Cross-Contamination of THC
You have to be proactive to avoid failing a drug test if you're taking CBD oil. Most important: Ensure that you're using a pure product made by a reputable company.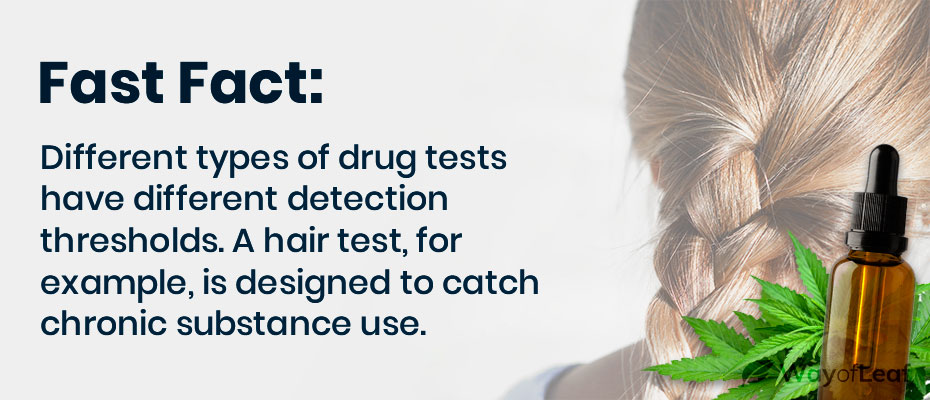 And then you've got CBD isolate oils. These oils supposedly contain nothing but the CBD compound, all by itself. They should never result in a failed drug test. Unfortunately, not all products are labeled accurately. On more than one occasion, trace amounts of THC have been found in products labeled as CBD isolates.
Furthermore, the specific THC content in a CBD oil made from hemp is not always accurate – regardless of what the product label might say. In fact, there are few regulations on the current CBD oil market, and thus a lack of oversight regarding things like label accuracy.
For example, you can inhale enough second-hand marijuana smoke to fail a drug test if the people around are smoking heavily in your vicinity. This is especially true if you're hanging around in a poorly-ventilated room (i.e., a small indoor concert venue or an Amsterdam coffeeshop) for hours on end.
Full-Spectrum / Broad-Spectrum / Isolate CBD Oils
CBD oils made from hemp are often further categorized into full-spectrum CBD oils, broad-spectrum CBD oils, or CBD isolate oils. Full-spectrum oils contain all of the plant-based phytocompounds that are found in hemp. This includes both CBD and THC. If you want to use CBD oil but are worried about failing a drug test, full-spectrum products are probably not your best choice.
For example, remember the numbers and statistics that we talked about above. Even though these numbers were assuming an individual was taking full-spectrum CBD oil with trace amounts of THC in it, there is still a risk even with CBD isolate oils that are supposedly 100% THC-free. This is due to mislabeled products on the manufacturer's behalf.
CBD Oil from Hemp
Most CBD oils that you see for sale today come from industrial hemp – a distinct cultivar of the Cannabis sativa L. plant. Hemp contains THC levels of less than 0.3% by dry weight. As we discussed above, even a THC content at these levels can cause an individual to fail a drug test – especially if the CBD oil is consumed on a frequent or daily basis.
At more "regular" doses (i.e., 3-5 servings per day of standard CBD hemp oil), the estimated THC consumption is around 0.5 mg. This amount would produce a failed drug test less than 0.2% of the time.