Common bile duct (CBD) stone is a relatively frequent disorder with a prevalence of 10-20% in patients with gallstones. This is also associated with serious complications, including obstructive jaundice, acute suppurative cholangitis, and acute pancreatitis. Early diagnosis and prompt treatment is the most important for managing CBD stones. According to a recent meta-analysis, endoscopic ultrasonography and magnetic resonance cholangiopancreatography have high sensitivity, specificity, and accuracy for the diagnosis of CBD stones. Endoscopic ultrasonography, in particular, has been reported to have higher sensitivity between them. A suggested management algorithm for patients with symptomatic gallstones is based on whether they are at low, intermediate, or high probability of CBD stones. Single-stage laparoscopic CBD exploration and cholecystectomy is superior to endoscopic retrograde cholangiopancreatography (ERCP) plus laparoscopic cholecystectomy with respect to technical success and shorter hospital stay in high risk patients with gallstones and CBD stones, where expertise, operative time, and instruments are available. ERCP plus laparoscopic cholecystectomy is usually performed to treat patients with CBD stones and gallstones in many institutions. Patients at intermediate probability of CBD stones after initial evaluation benefit from additional biliary imaging. Patients with a low probability of CBD stones should undergo cholecystectomy without further evaluation. Endoscopic sphincterotomy and endoscopic papillary balloon dilation in ERCP are the primary methods for dilating the papilla of Vater for endoscopic removal of CBD stones. Endoscopic papillary large balloon dilation is now increasingly performed due to the usefulness in the management of giant or difficult CBD stones. Scheduled repeated ERCP may be considered in patients with high risk of recurrent CBD stones.
Keywords: Cholangiopancreatography, endoscopic retrograde; Choledocholithiasis; Gallstones.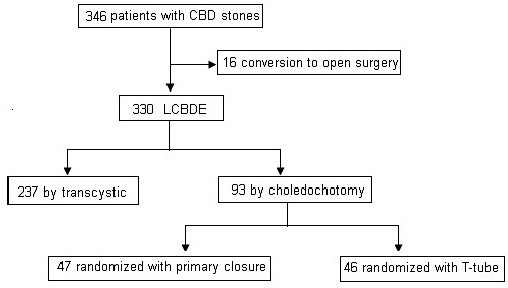 Laparoscopic transcystic stone extraction
At the end of the procedure, a single infrahepatic suction drain was placed. This was removed 48–96 h later if there was no bile leakage. Patients in the T-tube group had a cholangiogram on the third to fifth postoperative day. If the finding was normal, the T-tube was clamped and patients were discharged home with the T-tube.
Results
Zhang WJ, Xu GF, Wu GZ, Li JM, Dong ZT, Mo XD: Laparoscopic exploration of common bile duct with primary closure versus T-tube drainage: a randomized clinical trial.J Surg Res 2009,157(1):e1–5. 10.1016/j.jss.2009.03.012
Because of LCBDE failure,16 cases (4.6%) required open surgery. Of 330 successful LCBDE-treated patients, 237 underwent LTSE and 93 required LC. No mortality occurred in either group. The bile duct stone clearance rate was similar in both groups. Patients in the LTSE group were significantly younger and had fewer complications with smaller, fewer stones, shorter operative time and postoperative hospital stays, and lower costs, compared to those in the LC group. Compared with patients with T-tube insertion, patients in the LC group with primary closure had shorter operative time, shorter postoperative hospital stay, and lower costs.
Methods
The pre-publication history for this paper can be accessed here:http://www.biomedcentral.com/1471-2482/15/7/prepub