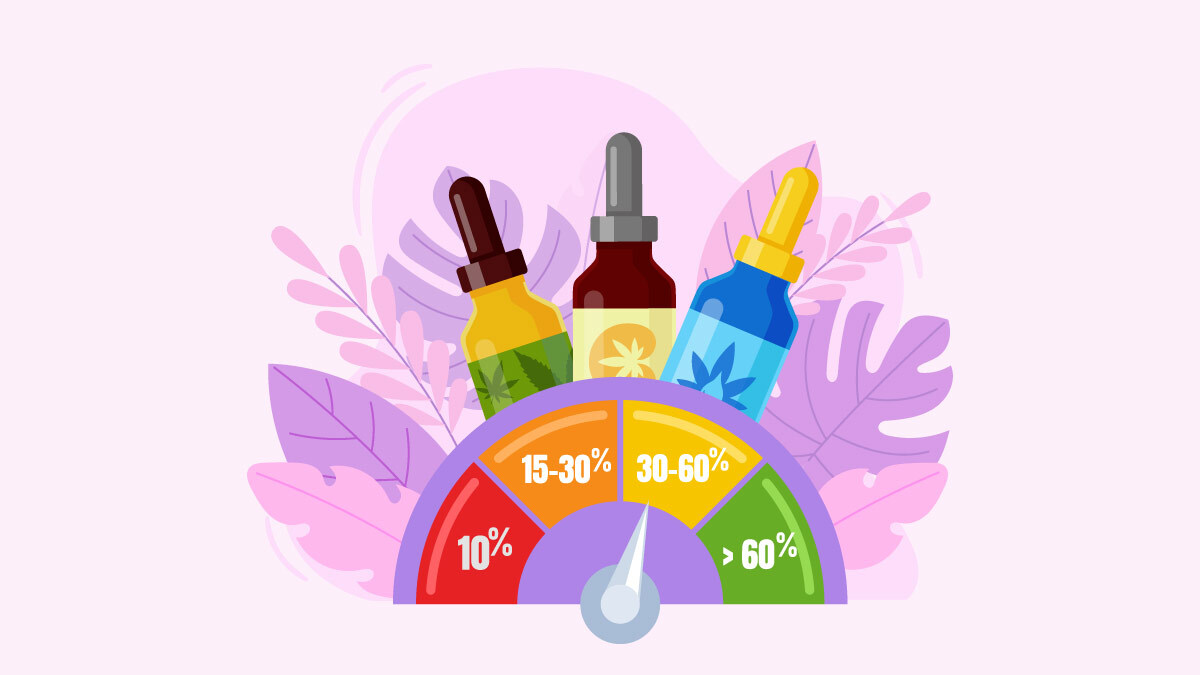 So 300 mg in a 15 mL bottle will be twice as potent as a 300 mg oil in a 30 mL bottle. Confused? We'll clear this up in more detail later. Keep reading, you'll be an expert by the time we get to the end.
Why Are There different CBD Potencies?
The most important thing to remember when you buy CBD oil is to keep in mind that the bottle size matters.
Low Potency CBD Oil (10% or Less CBD)
This means that every mL of oil you take will deliver exactly 10 mg worth of CBD. Here's a simple equation:1 serving = 15 drops of oil = a 7.5 mg dose of CBDFor lots of people, though, even as little as 5-7 drops (about 3.5mg of Cannabidiol) can bring relief.
Also, make sure you understand that most CBD products on the market are not recognized as medicine. The only FDA-approved clinical use for CBD is in the treatment of Dravet syndrome and Lennox-Gastaut syndrome (two rare forms of pediatric epilepsy).
After reading through the first few sections of this article, you might still be wondering, what CBD oil should I buy? Unfortunately, there's not one single answer that applies to everybody. Every one of us is different, so we will not all respond in the same way to CBD.
Do not get discouraged if you do not see immediate results after consuming CBD oil. Bear in mind that it may take some time for you to notice CBD oil's effects, particularly if you begin with a very low dose.
As mentioned, we recommend starting with a very low dose of CBD to gauge its effects. Of course, not everyone has the same body size and weight. Therefore, a 220lb heavyweight boxer will need a higher dose of CBD than a 126lb jockey.
How to Choose CBD Oil Strengths
Just like the 300 and 600 mg products, most 1,000mg hemp oils come in a 30 mL bottle. A single 20-drop serving equates to a CBD dose of approximately 33.3mg. In most instances, users won't have much use for a higher-strength product than this. Here's a basic table summarizing which CBD oil strength may be best for you:
Deciding to use CBD oil as a natural therapy is one thing, but figuring out which brand to use, what CBD oil strength or concentration to use, and how much CBD to actually take is another thing altogether. With all of the products out there to choose from and their confusing labels, it can be a nightmare trying to determine which is best for you.
CBD OIL DOSAGE TABLE
What CBD Oil Should I Buy?
Of course, we always remind readers that most CBD products on the market are not approved by the FDA, and are not recognized as drugs or medicines. The only exception is Epidiolex, which is a prescription cannabidiol drug used to treat two rare forms of epilepsy.
So, if you are looking for the strongest CBD oil you can find, bear in mind that the bottle's size needs to be taken into account. The good news is that many leading CBD brands, such as PureKana and Premium Jane, list the milligram of CBD per serving on their packaging, as well as on the product pages of their respective websites.
[AMOUNT OF CBD IN MG] ÷ [BOTTLE SIZE IN ML] = STRENGTH IN MG/ML
• Anything below 5 mg/mL (10%) is considered low strength
• Anything between 15 and 30 mg/mL (15-30%) is medium strength
• Anything between 30 and 60 (30-60%) is high strength
• Anything else (60+%) is considered ultra-high strength or classified as a concentrate
One of the variables to take into consideration when evaluating CBD products is potency.
• 300 mg
• 600 mg
• 1000 mg