You will need a teaspoon or tablespoon to consume CBD-infused syrup, and can easily measure how much cannabidiol you are using. For example, if there is 600mg of CBD in a 60ml bottle, you get 10mg of CBD per ml. A teaspoon (5ml) of this product contains 50mg of CBD. A tablespoon (15ml) contains 150mg.
Proponents of CBD syrup suggest it lasts longer than its oil counterpart. The claim is that you feel the effects of syrup for up to six hours. In contrast, the impact of a CBD tincture wanes after three hours. There is little evidence to support this suggestion, and users should take such claims with a large pinch of salt.
Most people are familiar with cough syrup, which is often sweet-tasting. CBD syrup has a similar texture and taste but is infused with cannabidiol. The debate surrounding CBD continues to rage as the FDA refuses to approve it. Therefore, we are faced with an unregulated industry for the most part.
What Do Brands Add to CBD Syrup?
Those who try it do so mainly to avoid the bitter taste of organically grown hemp. It usually tastes great and is easy to measure. What you need to watch out for is the list of ingredients in each product, as we explore in further detail below.
You can add herbs such as lavender, mint, citrus peels, and lemongrass if you wish. It is not the same as a brand syrup and works best as an addition to a hot drink or dessert.
Aside from the above, there are more similarities than differences. Both are forms of oral consumption, though you can also absorb CBD oil sublingually by holding it beneath the tongue. Either way, the cannabidiol must go through the first-pass metabolism as it travels through the digestive system and liver. Eventually, it reaches the bloodstream. Both oil and syrup have relatively low bioavailability rates. It is likely that only 13-19% of the CBD you consume makes it to your bloodstream.
EDITOR'S CHOICE – HEMP BOMBS
There is no mystery here; it is a thick, often sweetened, substance that is infused with CBD. Proponents of it suggest it works with the body's endocannabinoid system (ECS). Some people use it to boost appetite and decrease nausea. Others believe it helps manage the symptoms of conditions such as sleep disorders, chronic pain, and arthritis.
While there is only one Cloud N9ne CBD syrup concentration, it is extremely popular with customers. However, it is the weakest of the three options in terms of CBD per bottle at 120mg. With 4oz in a container, you get around 1mg per ml, which equates to 5mg of CBD per teaspoon.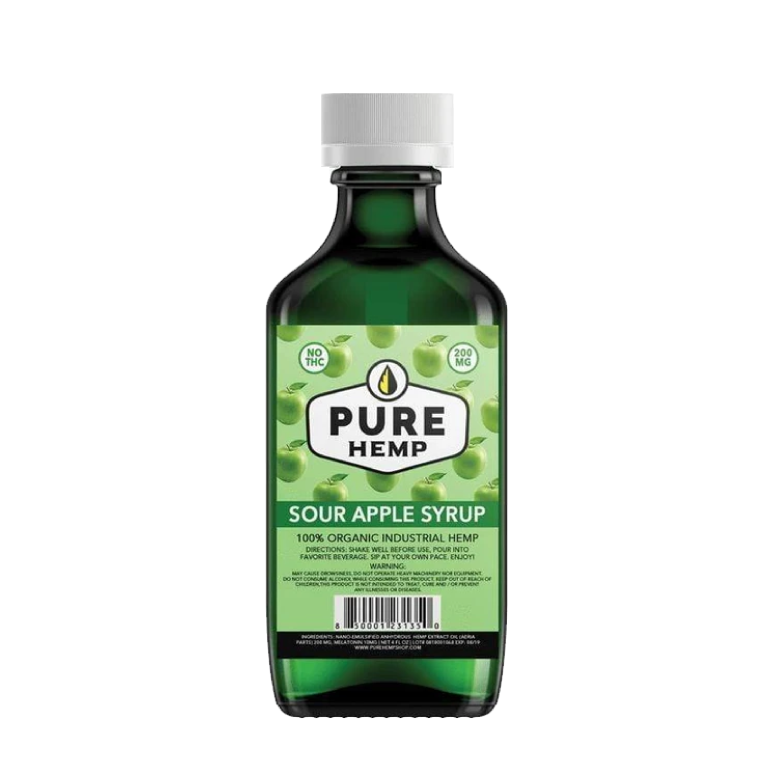 Independent lab testing is our number-one ranking criteria when seeking out the best CBD syrups. The top brands will always send their products to third-party laboratories for analysis before releasing them to the public. These facilities test for things like potency and the ratio of cannabinoids, terpenes, and other compounds in each product. They also look for heavy metals, pesticides, and contaminants, so you will know precisely what is in your CBD syrup.
Highlights:
Shipping: Free shipping on all orders (at the time of this writing)
Highlights:
5. Pure Hemp CBD Green Apple CBD Syrup
This Sour Apple CBD Syrup is a delicious flavor twist and contains 200 milligrams of pure isolate CBD. It is designed as a sleep aid and contains 10 milligrams of melatonin. You can pour it into your favorite soft drink or take it straight up—one to two tablespoons is the recommended dose. If sour apple doesn't appeal to you, select from other flavors like grape, blueberry, or cherry.
This CBD Sleep Aid Syrup is available in grape or cherry flavors, and each tablespoon contains 25 milligrams of CBD and two milligrams of melatonin. Made with nano-technology, the syrup is water-soluble, so it blends easily in any beverage of your choice as well. It's designed to help you fall asleep and stay asleep. Plus, since it's made with broad-spectrum CBD, it contains no trace amounts of THC.
While CBD oils have become more popular than ever, there are plenty of other products to select from. In addition to CBD vape products, edibles, and capsules, customers can enjoy taking CBD as a syrup. CBD syrups are a delicious alternative to other methods, and if you haven't heard about this unique way of taking CBD, you're in for a treat.
Will CBD Syrup Get Me High?
Description:
Description: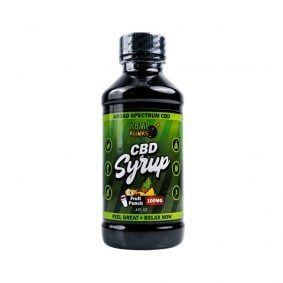 Many other companies don't even offer CBD syrups — so Hemp Bombs is a good choice for those of you looking for a few syrup options. Currently, the syrup is available in three potencies and one flavor. Hemp Bombs would score higher on this metric by adding another flavor or two.
Formulation/Ingredients 5/5
Hemp Bombs recommends its Relaxation Syrup to manage anxiety, insomnia, and stress. With the inclusion of melatonin, L-theanine, scutellaria, and more, the syrups should work well for these purposes. Although syrups may not be your main source of CBD, they work well to add variety and flavor to your CBD supplementation regimen.
Product Variations 4/5
Although syrups are definitely more expensive than other intake methods like vape oils, tinctures, capsules, or concentrates, Hemp Bombs syrups are quite reasonably priced. It's not unusual to see CBD syrups that cost more than Hemp Bombs sources its hemp from American farms but doesn't list the state. The company claims its hemp is 100% organic, pesticide-free, and grown with sustainable practices. We couldn't find the certificates to prove Hemp Bombs organic claims — which makes difficult to give the company full points here..25 per mg of CBD — making Hemp Bombs a solid deal at Hemp Bombs' syrup is a strong contender for our favorite CBD syrup currently available. Although it's only available in one flavor, it has a higher CBD content and costs less than many competing products. Hemp Bombs also includes a variety of other ingredients to better target anxiety and stress..20 or less per mg of CBD.