Beauty: CBD beauty products like antiaging serums are all the rage in the beauty industry. CBD may offer women benefits like strengthening hair follicles, reducing the appearance of dark spots and improving the look and health of their skin. A 2014 study found that CBD helped suppress acne breakouts by regulating oil production of the sebaceous glands and lowering skin inflammation, says Anita Sadaty, MD, an obstetrician-gynecologist and founder of Redefining Health Medical, a women's health medical practice in Roslyn, New York. "In general, anti-aging skin benefits may be related to the anti-inflammatory properties of CBD," she says. Topical CBD is also great for skin rashes, eczema and psoriasis, says Dr. Sadaty.
CBD is sold in various strengths and forms including oils, capsules, edibles and topicals at health food stores, smoke shops, pharmacies and more (if it's legal in your state). You might dab CBD lotion on problematic areas or drizzle CBD oil into your coffee. Or maybe you munch on CBD edibles like chocolates or gummies.
Hormonal imbalance: CBD may provide relief for women suffering from hormonal imbalance. One study investigating the effect of CBD found that it helped regulate the secretion of the stress-activating hormone cortisol. By influencing hormone regulation, CBD can help prevent hormonal imbalance. Also, when you use hemp-based CBD products, you're getting omega fatty acids and gamma linolenic acid, an omega-6 fatty acid which is known to help regulate hormones.
These days, CBD—cannabidiol, a chemical derived from cannabis—is being sold in many forms and used for many things. Find out what women are using it for.
CBD is typically safe and well tolerated. It may cause side effects like sleepiness, diarrhea, rash, decreased appetite and weakness, and it may interact with some medications, like antidepressants. Like any drug, its effects vary with the dose. Typically, the higher the dose, the more unanticipated side effects. Consult with your health care professional before trying it.
But don't expect CBD to give you an actual buzz. Because CBD is non-psychoactive and contains no tetrahydrocannabinol, or THC, it doesn't produce the high associated with marijuana. Still, since this therapeutic agent is legal in some states, it's enticing to those who want relief minus mind-altering effects.
Countless products containing CBD have popped up, touted as natural remedies for ailments ranging from joint pain and seizures to anxiety and insomnia. CBD is thought to alleviate conditions like inflammation, migraines, nausea, sleep disorders and more. And women are getting in on it, too. (See more below on that.)
"Sleep is interrupted during this time, impacting your day-to-day life," she says. Her patients are using CBD oil to help them stay asleep. She says it also helps them sleep when menopause-related anxiety keeps them up at night. "Women wake up with a busy mind and can't shut down their thoughts," she says.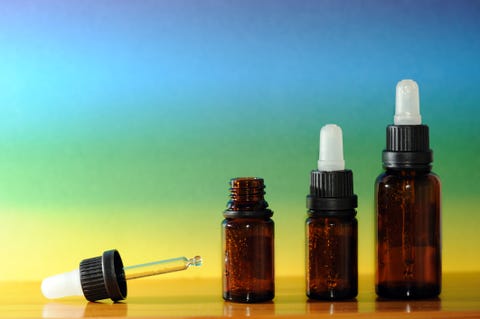 Beyond that, there are no other known chronic issues, Welty says. In fact, the World Health Organization has said that "CBD exhibits no effects indicative of any abuse or dependence potential," and that "CBD is generally well tolerated with a good safety profile."
Yes, it comes from the cannabis plant; no, it will not make you high.
The one use for CBD oil that has been given a gold star by the FDA: epilepsy. However on announcing their approval this June, the agency released another statement cautioning that lots more research needs to be done before CBD oil can be considered safe and effective for other uses.
Since autoimmune diseases are almost always linked to inflammation, it makes sense that research shows CBD may help with inflammatory disorders like multiple sclerosis, Hashimoto's disease, asthma, lupus, celiac disease, and more.
What about all those other benefits of CBD oil?
But the actual amount of CBD you're getting in your oil can vary hugely. That's because the FDA generally considers the oil a dietary supplement—which they don't monitor or regulate.
FYI: It is possible for extracted CBD oil to contain trace amounts of THC, since both compounds are present in the plant. So if your workplace has a zero tolerance policy, you might want to steer clear.
But we may have a more definitive answer soon. "There are ongoing, well-designed studies for pain and anxiety using new pharma-grade CBD products. They will show us pretty clearly whether or not the drug is effective," says Welty.
What is CBD?
To say there is hype surrounding CBD right now is no exaggeration: "CBD is showing promise as a pain reliever, epilepsy treatment, and for wasting disease associated with cancer," says Taz Bhatia, M.D., an integrative health expert.
What don't they use it for? People say CBD help reduce pain, anxiety, depression and stress, improve the immune system, reduce inflammation, and more.