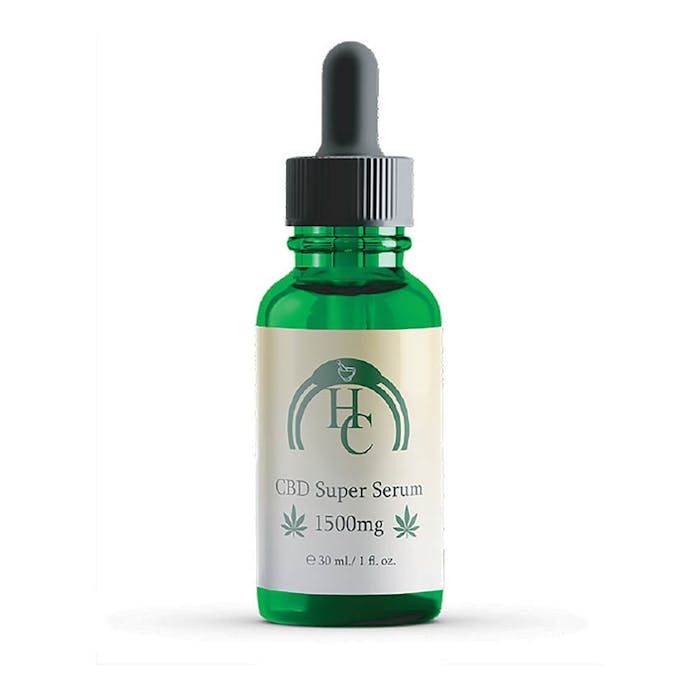 This CBD Serum helps to relieve painful inflammation.
Formulated with CBD, safflower oil, sunflower oil and hemp seed oil, the CBD Super Serum from Hale Cosmeceuticals helps relieve painful inflammation and reduce redness and skin reactivity, while delivering anti-aging benefits.
More than just a trend, CBD oil is taking over the world of beauty and skincare. According to a recent Market Watch Report, the global CBD cosmetic market is expected to hit $1.7 billion by 2025. For those who don't know what the ingredient is, CBD is a non-psychoactive component of cannabis plants (marijuana and hemp). Unlike THC, it doesn't get you high. Instead, CBD contains powerful antioxidants and is rich in Omega 3 & 6 fatty acids, making it a savior for plenty of health and skin concerns.
Research has shown that CBD can help treat anxiety, chronic inflammation and pain, and insomnia. It's same healing properties can cure skin issues like inflammation, dryness, and damage caused by free radicals. CBD is also known to be effective in reducing the production of sebum in acne-prone skin and is even beneficial for sensitive skin.
The Best CBD Brands for Your Spa…
From body oils and creams to chapstick and facial cleansers, you can start to think of CBD oil as the new essential oil of skincare. That's why integrating CBD-infused products into your spa's backbar is an absolute must. Now, finding the right products to try might feel overwhelming with so many on the market. Here is a list of the best CBD skincare brands for your clients! And yes etsys, they are totally legal and #LNEapproved!
CBD Super Serum is an ideal formula for every skin type and every age.
The main active ingredient in CBD Super Serum is, of course, cannabinoids. Every application has pure cannabinoids that contain CBD, CBC, and CBG—all non-psychoactive cannabinoids that have beneficial effects ranging from pain relief to skin repair.
Description
The active ingredients in CBD Super Serum can help you achieve a wide range of skincare goals, such as:
Our formula combines CBD oil with other skin-nourishing ingredients, including: