5. Transfer to a jar with a tight lid. Store in a cool, dark place.
Dry skin got you down? If your hands and feet are as dry as the Sahara Desert, your skin could use a little TLC. Stop dry skin in its tracks with a supple, skin-for-the-win kind of balm.
Whether you're a rugged dad or an Instagram star, everyone looks and feels better with ultra-moisturized skin . Your number one ally to get there: DIY CBD salve ! Full of family-friendly ingredients (and free of fake ones) this homemade balm is a hit for everyone
2. Put the melted mixture in the fridge for 5–10 minutes until the top just begins to solidify.
YL tip: We used Cool Mint CBD for the sweet, fresh, universally appealing scents of Peppermint and Spearmint, but you can swap in other CBD products like Cinnamon CBD Oil or Citrus CBD Oil. You could also make three batches to try the whole bunch!
Instructions
1. Combine beeswax, coconut oil, and shea butter in a saucepan over medium heat. Stir frequently until melted.
4. Add vitamin E oil and CBD. Mix well.
YL tip: Interested in spreading the CBD love? Separate this salve into several small jars to take on the go or give as gifts.
How to make DIY CBD salve
3. Take out of the fridge. Whip the mix with a whisk or electric mixer until it starts to fluff up.
¼ cup beeswax pellets
½ cup coconut oil
½ cup shea butter
1 teaspoon vitamin E oil
1–2 droppers of Cool Mint CBD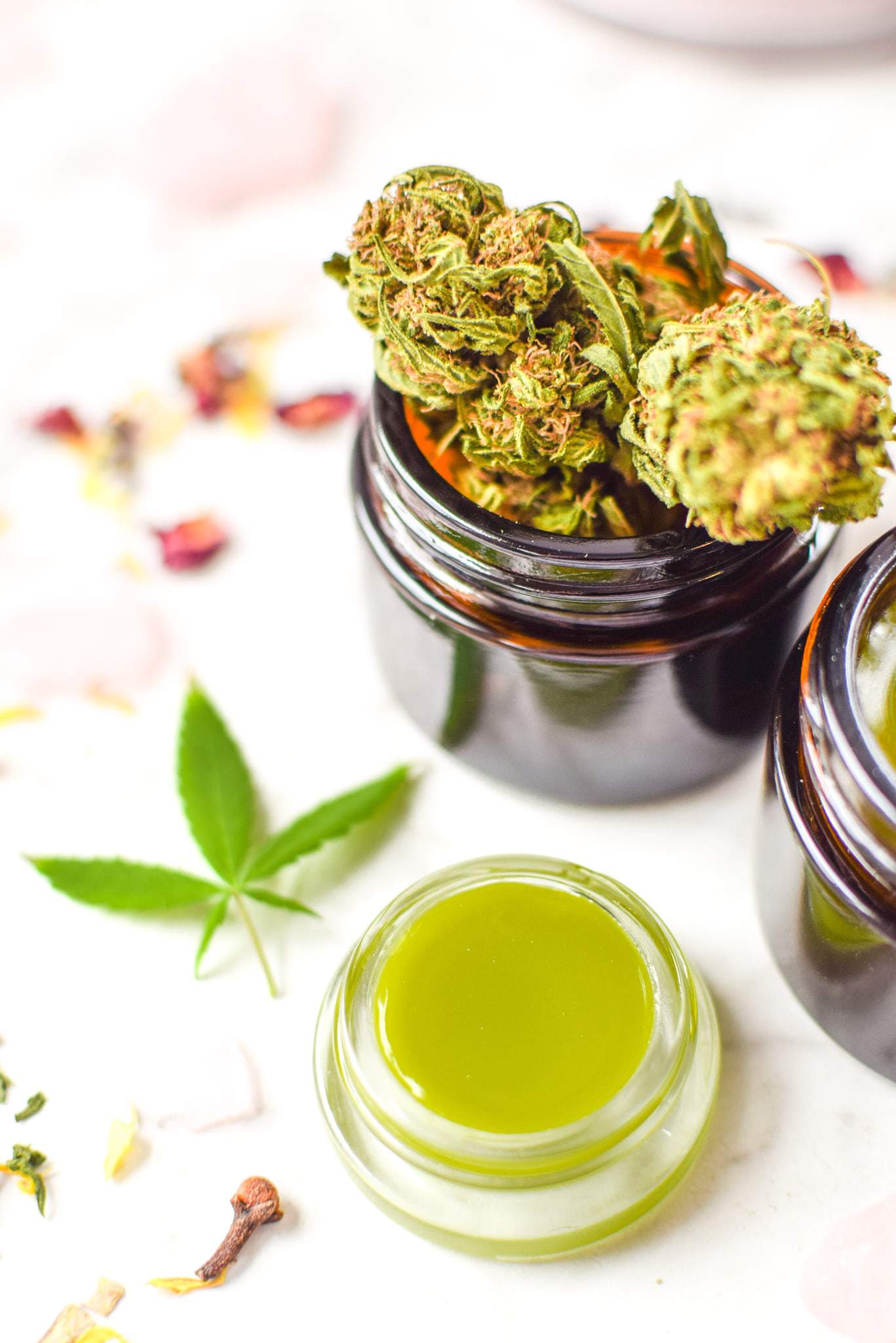 I've included ingredients like peppermint and tea tree oil to help open the pores, arnica, and lemongrass to provide deep relaxation, and beeswax and full-spectrum hemp extract to revive the skin.
Homemade Cannabis-Infused Salve
As with all things cannabis, there is more than one way to get to a final result.
What Are the Benefits?
If you have access to raw cannabis flower or CBD flower, it is easy to prepare your own oil at home, and it will allow you to choose which floral botanicals you want for your infusion.
When you smoke cannabis, the cannabinoids enter the bloodstream through your lungs and throat, while edibles are metabolized inside the gut. Topicals work very differently.
Topical solutions can activate the cannabinoid receptors in the epidermis, but they do not penetrate deeply into the skin, so they're most effective for localized treatment. Transdermal cannabis solutions on the other hand, do penetrate the skin and enter the bloodstream. These solutions typically use some sort of chemical to penetrate the skin, and usually come in the form of a patch.
Related Stories
Decarboxylation simply requires heating up some cannabis in the oven for 30-45 minutes at around 220-245°F (105-120°C), making sure to check every five or 10 minutes to make sure the marijuana isn't scorched.
Do cannabis topicals work — and can they get you high?
It probably goes without saying, but you're not going to want to smoke your cannabis salve. Even if you do actually manage to keep it lit, it won't accomplish anything other than possibly hazardous throat irritation.