This business is great for people who have a genuine interest in how cannabis can be used to bring relief to users. Owners should understand the complexities of the plant and how different strains can help treat certain ailments.
Recommended: Read our guide on the best net-30 vendors so you can start building business credit now, so you never have to worry about cash flow in the future. Keep in mind that poor cash flow is the #1 reason businesses fail!
Choosing the right name is important and challenging. If you don't already have a name in mind, visit our How to Name a Business guide or get help brainstorming a name with our CBD Oil Business Name Generator
Understanding the industry is going to be key to getting started. CBD oil is a legal gray area — no matter how you manufacture it. You're far less likely to run into authorities if you extract your CBD from pure hemp instead of marijuana, but cannabis can be confusing to people who have no experience with it. This can lead to being taken off the shelves or being shut down until local authorities figure it out — which could be a while.
What are some skills and experiences that will help you build a successful cbd oil business?
Depending on which business structure you choose, you might have different options for how your business will be taxed. For example, some LLCs could benefit from being taxed as an S corporation (S corp).
If you grow your own hemp and turn it into CBD oil, then your costs to start will be low. You can begin selling your product online with little more than a website made for a few hundred bucks with Squarespace and commercial liability insurance in case a customer sues you after using your product. You can also consider partnering with an established farmer to grow their business and your own.
It's very important to secure your domain name before someone else does.
Get a business credit card
Having a support network in place to turn to during tough times is a major factor of success for new business owners.
Recommended: Get a logo using Truic's free logo Generator no email or sign up required, or use a Premium Logo Maker.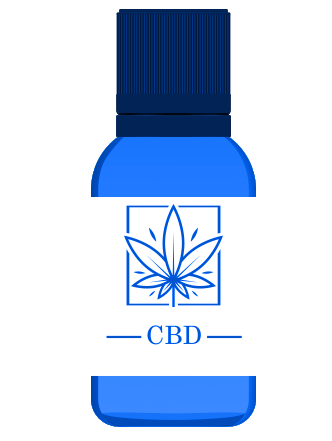 In the last few years, CBD oil has grown from a niche alternative treatment to a multimillion-dollar market. The growth rate suggests that by 2022 the CBD market will expand to over $2.5 billion. As more people discover the benefits of CBD, the medical community and legislators alike are taking notice. CBD is used on a daily basis by millions of people, and because of the credibility given to it by doctors, researchers, and lawmakers who support it, more people are trying CBD for the first time every day.
Understanding CBD and CBD Products
CBD has been shown to have similar effects on animals as it has on humans, so it's popular with people who have pets that suffer from pain or anxiety — even if the customer doesn't use any CBD themselves. Since animals can have much more sensitive systems than humans, CBD oils for pets should be specially formulated to ensure their safety. CBD for pets can also come in flavors like fish and bacon to make it more appealing to cats and dogs.
Summary of CBD Products and Accessories You Can Sell:
As a business owner, you should always look for ways to lower your costs as long as you don't compromise on the quality of your merchandise. CBD suppliers' pricing can vary greatly, and sometimes this is reflected in the quality of the product. For example, higher-priced CBD products are often more pure and potent — but this isn't always the case. Make sure you learn as much as possible about the supplier so you can learn whether the quality of their products justifies the pricing. Likewise, stay away from suppliers who sell at abnormally cheap prices. These rock-bottom prices are almost always a sign of cutting corners and producing an inferior product.

The CBD industry is introducing new products all the time. If you're looking to start a CBD business, you will have a wide range of product types to consider selling. Here are the most popular types of CBD on the market right now:
If you've done any research into the CBD market already, you've likely encountered the terms "full-spectrum" or "isolate." Depending on the extraction methods used, the CBD oil obtained from the plant might contain other cannabinoids and compounds found in the source plant. This is what is known as full-spectrum CBD. Full-spectrum CBD not only contains other cannabinoids found in the source material, but compounds known as terpenes, which are responsible for creating the flavor profile, aroma and specific effects of the plant.
Full-spectrum CBD vs. CBD isolate
Still relatively new to the mainstream, cannabidiol, more commonly known as CBD, is becoming a household name. The purported therapeutic and health benefits of CBD, one of many compounds found in cannabis and hemp plants, has created a buzz. CBD oil has entered the marketplace in the form of tinctures, infused edibles, topicals and more. The growth of CBD oil products has been so immense, in fact, that industry analyst BDS Analytics predicts the U.S. CBD market will reach $20 billion in sales by 2024.
A combination of due diligence and creativity will set your business up for success in the CBD industry. Now is the time to get in on the ground floor and build a company that will last, but differentiate yourself with a quality product that stands out from the crowd.
Hemp CBD vs. cannabis CBD
The 2018 Farm Bill essentially removed CBD from the federal Controlled Substances Act and the oversight of the Drug Enforcement Agency. Instead, it placed governance of the hemp industry and CBD oil in the hands of the FDA.