11am – 6pm Sun – Thur
11am – 9pm Fri – Sat
*Details may vary due to COVID-19 restrictions. View venue's website or call ahead before you visit.
Mad Mex have a simple philosophy of only using fresh, real food in all of their delicious Mexican dishes. In fact, the founders promise that if their abuelas (grannies) wouldn't recognise it, they won't put it in their food. The result is fresh, healthy and delicious burritos, quesadillas, nachos, bowls, tacos and salads – to eat in or to go.
Healthy, fresh Mexican, just like abuela used to make it.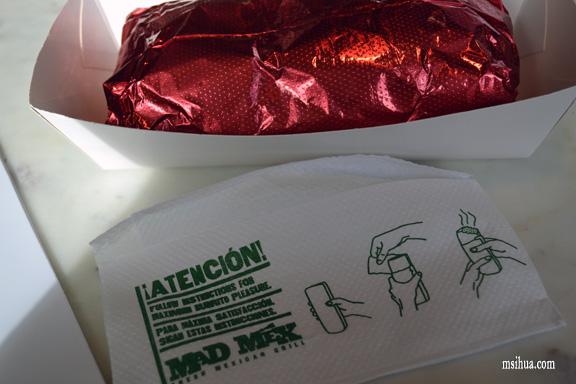 One of the great things I liked about dining at Mad Mex, is that they actually let their customers sample the fillings prior to ordering. So if you're standing in line and can't decide whether to have the beef or chicken, just ask for a taste test.
Clovis had mentioned, "The people of Melbourne really do appreciate fine food and prioritise quality over pure convenience more than other cities."
Would I come back for more? Sure thing. I'm actually craving for some of that pulled pork right now. So good! MMmmmm…
So what did a bunch of us managed to try? We had the chance to go through the whole motion of ordering our food, taste-testing some of the fillings and then placing our orders. The assembly line worked pretty similarly as a Subway outlet and is really just as fast. It took about 10 minutes when we were there but Clovis assures us that they could be faster once their training was completed (We were there for the opening week).
The staffs are friendly and happy to accomodate (and this really had nothing to do with us being part of the launch, we were lining up together with everyone else, so they wouldn't have known!).
Later, Clovis brought us some Tortilla chips with melted Queso cheese and fresh guacamole to try. So so so good. You can really taste the difference of freshly made Tortilla chips as opposed to the packeted ones you usually get served with.
To order, you go through a simple 3 step process. Step 1: Choose your Mad Mex style (i.e. tacos, burritos, quesadilla, etc). Step 2: Choose your filling (i.e. Chicken, Pork, Beef, Steak, or Veggies). Step 3: Add fresh salsas!