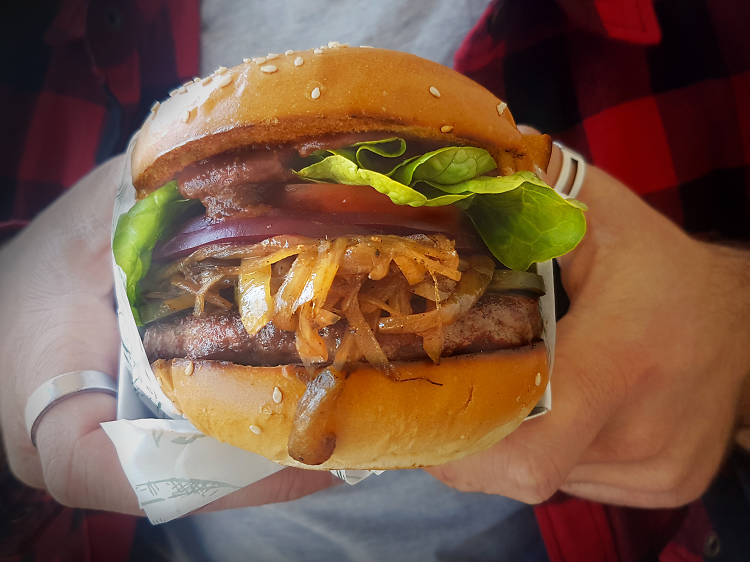 Awesome, you're subscribed!
The Brooklyn takes all the best bits of your classic cheese burger – medium rare patty, sticky American cheese, mayo and lettuce and doubles the cheese, and doubles down on the mayo score, adding a chipotle chilli and a gherkin spiced version, and then adds spicy jalapeno slices to punch through all the fat. Frequent flyers will know to avoid peak times – these guys get serious queues forming from noon.
They're famous for their 16-hour brisket rolls with coleslaw and barbecue sauce (the pepper crusted bark is amazing), but these guys are also smoking a dense, flavoursome deliciously chewy wagyu patty that they squish inside a soft white bun with pickles, diced onion and enough tomato sauce and mustard to ensure it gets over your fingers.
The chipotle chicken burger outshines its beefy brethren here. Structural integrity isn't this burger's strong suit – but what it lacks in form, it's makes up for in tiered textures. The fried chicken is coated in a crisp batter (which is seasoned with a mix of what resembles the KFC secret 12 spices), the bacon is juicy, soft avo, lettuce and tomato add freshness while the chipotle mayo brings it back into flavour town.
12. Hamburger at Superior Burger
Brisbane's burger chain has opened a Sydney outpost that does a messy beef burger with cheese, and one of the best meat-free burgers on the fast food circuit. They sandwich a mix of gouda and Gruyère between big, flat, juicy field mushrooms and then crumb and deep fry it so that the shell is crunchy and the cheese molten. It's lightened and brightened by the requisite lettuce and tomato and delivered in a soft, white, sweet bun spread with the house secret sauce (a spiced mayo situation).
A burger is a simple premise, but doing them well is a dark art. Do you go with the classic sesame seed, potato, milk or brioche bun? Do you prefer American cheese, blue or cheddar? Caramelised onions, pickled or raw? Lettuce and tomato or cheese and pickles? Is your protein power chicken, fish, beef, or mushroom? And we haven't even gotten to the question of fries yet. There are a thousand variations on a burger, but these are the 16 best in Sydney.
An email you'll actually love
8. Vic's Meat Market
Feel like something different? Here are Sydney's best pizza joints and the best places for dumplings.
An email you'll actually love
It's a well-priced, intelligent assembly of natural and biodynamic wine that offers a succinct overview of the span of minimal-intervention wine from super funky to super clean. There's a decent selection by the glass (William Downie pinot noir, Latta Jurassique​ chardonnay) but gather a few friends and do some wine exploration while chowing down on the burgers.
167 Franklin St Melbourne , VIC 3000
The door opens onto a fluoro-lit barebones stairwell. Up the stairs is a door with a faulty closing mechanism that means it will slam loudly behind you, though the slam is mostly lost beneath the blast of Queens of the Stone Age or Nirvana from powerful speakers.
The salty, fatty Mary's cheeseburger. Photo: Simon Schluter
alt="Bloody Mary topped with melted cheese, bacon and pickled onion." />Bloody Mary topped with melted cheese, bacon and pickled onion. Photo: Simon Schluter
The cavernous room is so dimly lit you'll be temporarily unable to see anything but the distant glow of the open kitchen and bar, where the words "F–k Mary's" are spelt out in red tiles. It's sensory deprivation and sensory overload all at the same time. You can sense trouble ahead, in all the best ways.
There's much to like at Mary's, including excellent service from a relaxed, informed team. Those with sensitive ears may find it a challenge but the quality of the burgers and the booze will help you get over that every time.
There are mushroom and chicken burgers, too, plus fried chicken that satisfyingly nails crunch and juiciness. Order some mash and gravy and you'll be well pleased with yourself.
Mary's booze matches the quality of the food. There are suitably hefty cocktails that are both well-made and fun to drink. There's an argument to be made for awarding the Bloody Mary capped with a slice of semi-melted cheese, crisp bacon and a pickled onion a place in the National Archives.