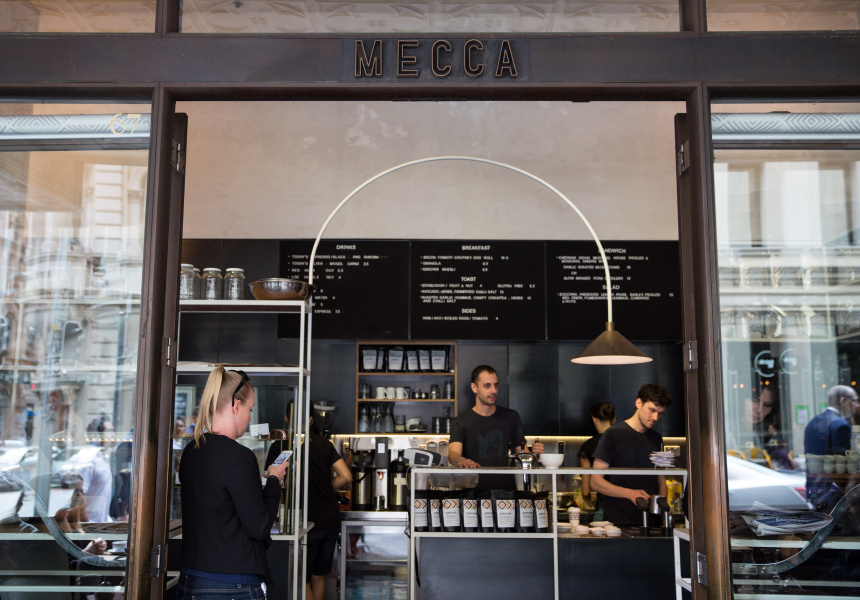 Paul Geshos founded this compact cafe in 2005. Since then he and newer partner Sam Sgambellone have opened a second cafe in Ultimo and a huge roastery and headquarters in Alexandria. More importantly, they've helped grow Sydney's specialty coffee scene, alongside names such as Reuben Hills and Single O.
At this busy spot, you can sample all of Mecca's impeccable roasts as espresso or filter; eat lunch; and buy beans and coffee–making gadgetry to take home. As befits the city location, the menu is short and mostly geared for take away. Sit down for toast and granola, or grab a filling salad or fresh sandwich to take back to the office.
From little things, big things grow. Paul Kelly and Kev Carmody might have been singing about Indigenous land rights, but their lyrics are just as apt when it comes to Mecca Coffee.
We do not seek or accept payment from the cafes, restaurants, bars and shops listed in the Directory – inclusion is at our discretion. Venue profiles are written by independent freelancers paid by Broadsheet.
From Mecca coffee roasters to the most tiny place in the QVB, all we check is whether they have exquisite coffee…
Our Top 5 coffee shops in the CBD
Getting its name from the nearby laneway, this historic spot was once used as a bowling alley. With soldiers and sailors often hanging out to bowl, historians say questionable activity often took place. Luckily for coffee-lovers, this cafe is today's most exciting event in Skittle Lane.
Skittle Lane
Single O has expanded to three shops throughout Sydney including its espresso bar in the CDB. Inspired by their Surry hills takeaway window there are only a few spots to sit, catering to those who pick up their coffee and head to work.