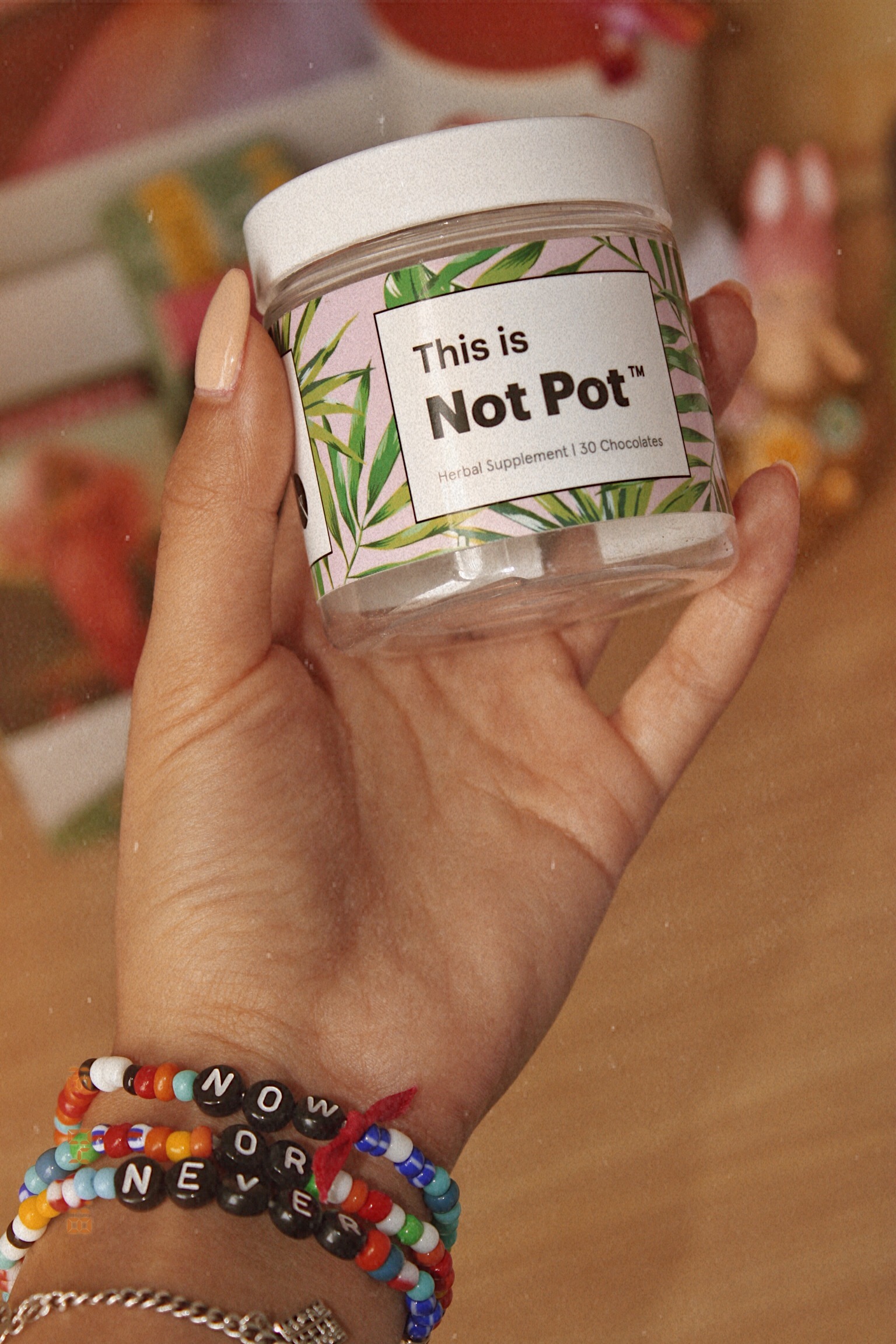 Hey there! A lot of people have been wondering and asking me my thoughts on Not Pot's CBD chocolates. I've been taking them for about a month (it's a 30 day supply) and now I think I can share my thoughts with you 🙂 I initially was interested because I, like a lot of people, struggle with anxiety. I have for a few years and finding ways to cope with it has been hard too. I gave Not Pot a try in hopes of being able to chill out a bit more lol. Let me say off the bat, Not Pot is free of gluten, soy, dairy and THC (which is the psychoactive that would get you high).
Now, the taste. It is a dark chocolate so it's not necessarily sweet, but a little bitter. I love chocolate regardless so this wasn't a problem for me, although I did discover that I sneeze every time I eat one! I looked this up and asked some people, they said it's normal for it to happen to certain people but it can't really be explained. There are some theories about it if you're interested in Googling it. Anyways, you're meant to have one of these chocolate hearts once a day. I prefer to take them in the evening.
First let's talk about the CBD in the chocolates. CBD is Cannabidiol which will not get you high, hence the name "Not Pot" and the label saying very clearly "This is Not Pot". CBD has healing components and many people use it for a lot of different reasons including to help treat pain, anxiety, diabetes, cancer and more. CBD is completely legal too 🙂 The dosage of CBD in Not Pot is pretty low and ideal for those who are just starting to use CBD. Not Pot includes Ashwagandha as well, which also helps with stress and anxiety. I actually have been taking Ashwagandha for a couple months too!
Though not printed on the label or listed online, Not Pot told POPSUGAR that each heart has two milligrams of CBD. This is a very light dose and a great idea for someone who is just easing into CBD. For reference, one dropper full (one serving) of the medium-strength Charlotte's Web Hemp CBD Oil is 25 milligrams. Not Pot recommends one heart a day.
Ready for an all-natural self-care treat that you'll soon be obsessed with? Cool. Same. Let us introduce you to Not Pot's CBD Chocolate Hearts – not only is the packaging freakin' adorable, but they are also a real treat. Let's go over everything you need to know.
Taste
Love dark chocolate? You'll love these. Because, well . . . they're dark chocolate – and, from what we taste, really good quality. There's the subtlest, almost unnoticeable touch of herb, which might be the hemp but also might be the ashwagandha. It's so subtle that you may not, in fact, taste it at all. To me, they taste just like dessert (read: my organic dark chocolate bar from Trader Joe's). Compared to the CBD oil and hemp extract (which I still love), this is such a treat, because despite the fact that I still take the oil, it tastes kind of like an ashtray.
With organic raw cacao, maple sugar, and ashwagandha, these little hearts are dairy-free, soy-free, vegan, and all-organic. You might as well sell this at Whole Foods or at Moon Juice in Venice Beach, CA.
Ingredients
The adorably palm-printed pink jar will run you $30 for 30 hearts, making it about 50 cents per CBD milligram. They're pricey – but delicious. Maybe that's just the price of self-care.