Tsunami Sushi also has locations in Baton Rouge and Lafayette. The New Orleans location will be open for lunch and dinner Monday through Saturday. Delivery is available to some locations.
A new sushi spot has opened in the CBD, but don't expect the traditional approach to sushi that diners saw at the now-shuttered Horinoya. Tsunami Sushi, which opened on the ground floor of the Pan American Life Center on Wednesday, brings an extensive menu and playful ingredients to the CBD, reports Helen Freund.
Tsunami blends the canons of the traditional sushi menu with eccentric items like the Dorito-dusted Munchie Roll. The menu reflects the restaurant's Southern roots. The Ragin' Cajun roll features panko-crusted alligator. Ginger and garlic sautéed shrimp are nestled on a bed of creamy corn grits and salmon is placed over kimchee-smothered collard greens.
Tsunami Sushi is located at 601 Poydras St., Suite B, in the Pan American Life Center in the CBD. 504-608-3474. Website.
This Baton Rouge-born newcomer to the New Orleans sushi scene unleashed a playful menu of rolls (like the Dorito-encrusted "munchie" roll) and other Japanese fare when it opened in the Pan American Life Center in the CBD last year. Tsunami keeps in the theme of its business district home with an upscale, corporate vibe including panels of material the color of a gray suit on the walls. It's expansive with high ceilings and an open kitchen with a menu to match: loads of over-the-top, super-size rolls.
Also Featured in:
Don't let the plain Jane sign outside this Gentilly BYOB scare you away. Good Time sushi and hibachi is a cute little neighborhood sushi place with fresh options and good service. The lunch menu is cheap, cheap, and specialty rolls, like the "good time" and "the tiger," are generous of portion and fresh. Popular for the hibachi experience as well, Good Time sushi is a sleeper that's perfect for satisfying a craving on a budget.
Sushi deviled eggs FACEBOOK
Sign up for the newsletter Eater NOLA
Asuka roll is stuffed with snow crab, crawfish, avocado, masago, and cream cheese, deep-fried; and topped with "special sauce" Yelp/Tim C.
The special tabo roll includes scallops and yellowtail inside, albacore on top with ponzu, chili sauce, and scallions Yelp/Tam M.
Sake Cafe Uptown is swanky sushi at its best. The place, in a former K & B drug store, is pretty in a 1990s sort of way with design wows like bright, multi-colored, Chihuly-esque blown glass chandeliers and bi-level white tablecloth dining (the top level is reserved for private parties). The sushi menu melds traditional Japanese dishes and New Orleans ingredients (see jazz roll, Uptown roll, and New Orleans roll on the menu) along with bento box lunch specials and a full bar including an extensive sake list and specialty cocktails. Happy hour happens daily from 3 p.m. to 6 p.m., with cheap drink specials and apps for $3 to $5. The po-boy roll is a clever approximation of the real thing with both mayo-based and sweet sauces standing in for the usual spreads, black sesame soy paper on the outside, and lettuce and fried seafood on the inside. Try an apple banana spring roll for dessert.
More in Maps
Dorito-dusted sushi at Tsunami FACEBOOK
Plan a little extra time to navigate Taste of Tokyo's behemoth of a menu with a list of special rolls that spans pages. While New Orleans metro area has plenty of sushi restaurants, this spot in River Ridge has some rolls that make it worth a drive, like the pookie roll (snow crab and wasabi tobiko inside with yellowtail, ponzu, cilantro, garlic, jalapeño, and green onions). Do know that the owner is proud of his menu and doesn't want anyone copying his rolls, so no descriptions are available online.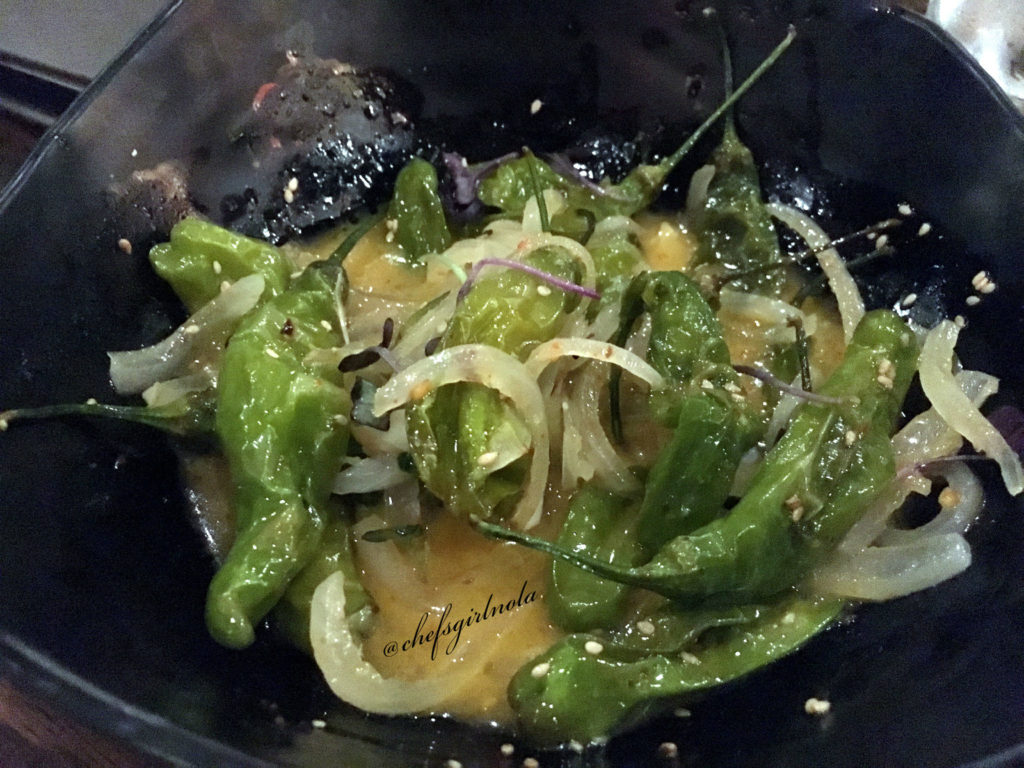 NEW! Sautéed Shishito Peppers.
It's been a few years since I've been to Rock-n-Sake. I went years ago and loved it, but after moving out of the city for a few years, I hadn't had the chance to try it again until recently. The feel is still very warehouse-y modern with some techno-y club music in the background. It can be loud at times, but I didn't mind the hustle and bustle on a night out with friends.
My friends and I initially came for Happy Hour, but unfortunately it's only on Tuesdays. No biggie, but we were disappointed since happy hour is what drew us there. The really good food made up for it. My favs were the Baked Salmon, Tuna Ceviche, and the Killer Scallops. The Baked Salmon was cooked so perfectly! Other restaurants tend to overcook the Salmon Roll and it comes out dry but this was perfection Rock-n-Sake! Tuna Ceviche was awesome. Wish I didn't have to share. The Killer Scallops were good BUT a bit pricey for only 4 scallops. Be sure to check pricing without your waitress because it's listed as Market Price on the menu.
Tuna Ceviche. Fresh Tuna. Lemon and Lime. Sriracha. Ponzu. Green Onion.