Reply from Suzie's CBD Treats
Reply from Suzie's CBD Treats
Reply from Suzie's CBD Treats
Love Suzie's treat! I have tried many brands that just did not seem to have any effect. Suzie's work. I am on my third order! Thank you Suzie's!
Great products
Our Chinese Crested has no longer had seizures since he's been on your CBD biscuits. Great products and service, thanks!
Hi James, thank you for taking the time to leave us a review! We are so happy your pup has been feeling better:)
AMAZING. We have a seasonal camping site. Our dogs can't relax because they are so distracted. It's like they just wait for people to walk by so they can bark. This in turn causes us to not be able to relax. Isn't that the point of camping. We brought our dog Milo last weekend by himself and gave him his first Suzies treat. He was a different "person". He paid no attention to the noises around us and didn't even care when people walked by. We then brought him to a Jeep show with us. Lots of people and other dogs. He did great. He was still a little nervous but there was no barking or aggression. It was awesome to be able to take him with us!! We can't wait to bring him more places and socialize him more. Thank you so much. I did a lot of research and I just loved your company. So glad I found you. Thank you so much. Karen
Our Chinese Crested has no longer had…
Hi Carol, thank you for taking the time to leave us a review! We appreciate your support of Suzie's:)
I use the oil for my 7 year old. Prior to using the oil, she was constantly on edge, barking and growling ALL day, and was becoming aggressive. She is now so much calmer and happy! She LOVES car rides now, loves looking out the window at home, and is able to enjoy life without being stressed out all the time.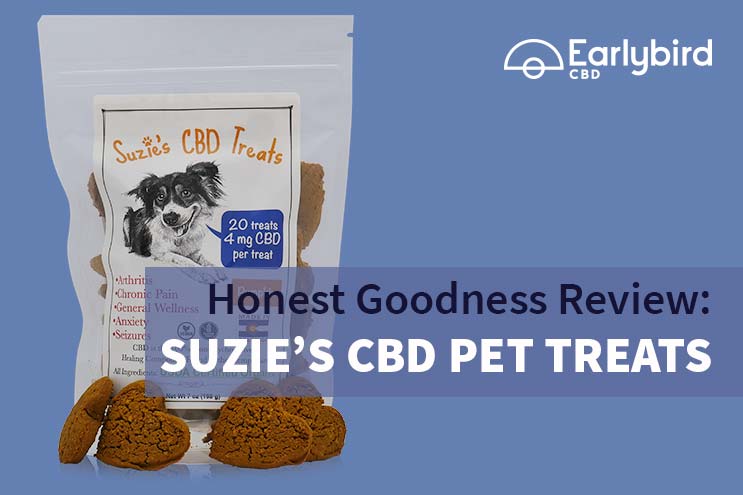 At this point, Richard decided other dogs and pets should have access to CBD treats. He teamed up with some passionate pet lovers who had lots of hemp and CBD knowledge.
President of Suzie's Pet Treats
The pet treat company never uses chemical sprays like pesticides or herbicides on their plants. Instead, they take a natural approach to growing their hemp, even when it's more expensive. For example, beneficial bugs that act as pest control are used during extreme cases. In other cases, they might prune the plants and use Neem oil.
What Makes Suzie's Hemp Farm Organic?
Together, with his new team, Suzie's CBD Treats came to life. Since the formation of the company, Suzie has sadly passed away. Now, as the inspiration behind Suzie's CBD pet treats, her memory continues to live on, and her smile adorns every package.